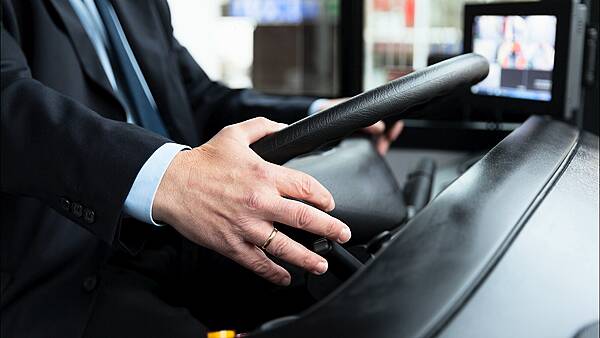 Jessica Magee
A former bus driver has been given a fully suspended sentenced after he admitted to careless driving causing the death of a cyclist just over two years ago.
Mark Hayden (49) died from severe injuries he sustained when a Swords Express coach collided with his bicycle on a local access road near Kilshane Cross in north Co Dublin on May 4th, 2021.
Mariusz Karpinski (32), of Killegland House, Ashbourne, Co Meath, pleaded guilty at Dublin Circuit Criminal Court to careless driving causing Mr Hayden's death.
At a hearing on Tuesday, Judge Martin Nolan sentenced Karpinski to one year, but suspended it in full, describing it as a very sad and very tragic case.
The court heard it was accepted by all parties that Karpinksi had been driving into very strong sunlight, by reason of which he had not seen Mr Hayden cycling to his left-hand side.
"This man made a mistake," Judge Nolan said. "He made a misjudgement in the way he drove. He should have seen him, but he didn't," he added.
The judge said most drivers have encountered the issue of driving in strong sunlight, and that when you have the sun in your eyes, you have a responsibility to react and adapt. "This defendant didn't take appropriate steps to deal with the weather conditions," he said.
Judge Nolan said there were no real aggravating factors in the case in that Karpinski had a full licence, was driving for a living and was not using a phone or driving under the influence of alcohol or engaging in any other reckless behaviour.
"This defendant was driving reasonably carefully. He was probably taking care at the time, but it wasn't enough. Poor Mr Hayden is dead," the judge said.
'Old-fashioned resilience and charity'
Mr Hayden's sister read a victim impact statement outlining the family's heartbreak to the court, while a victim impact statement from the deceased's mother was read by the judge.
Judge Nolan commended both women for their statements and said he understands that they are heartbroken and that Mr Hayden was very valuable and irreplaceable to their family.
He described Mr Hayden's mother as a woman of "old-fashioned resilience and charity".
Garda Claire Cronin told Fiona Crawford BL, prosecuting, that the Swords Express bus in question was a multicoloured Caetano Levanto and that Mr Hayden had been cycling a White Giant mountain bike.
The court heard that Karpinski started work at 6.30am and was driving towards the back of Dublin Airport at a speed of 51kmph or 52kmph in an area where the speed limit is 80kmph.
"Speed is not an issue in this case," said Ms Crawford, describing how the coach entered an area of shadow created by bushes on the roadside seconds before the impact.
Three witness statements taken from other motorists said it was a very bright morning and that the sun was glaring.
The court heard that Karpinski pulled his sunglasses down over his eyes but did not use the visor on the bus to shade his eyes. "He was watching the road ahead – the sun was the issue," Ms Crawford said.
Karpinski stopped the bus immediately after the collision, telling gardaí when they arrived that he had not seen the cyclist. "I hit something – I saw that the windscreen of the bus was smashed. I thought it was a bit of wood as the road was empty. I did not see the cyclist. It was a big shock that I hit him," he said.
The ambulance arrived and found Mr Hayden, who had been thrown to the verge, unconscious, unresponsive and bleeding from the head.
He was taken to Blanchardstown Hospital, where he initially stabilised, but medics were unable to stop the bleeding. He died later that night from internal abdominal haemorrhage.
A forensic collision investigator said the bus was fitted with seven internal and external cameras and footage from these cameras and CCTV gathered from local businesses was played in court.
The investigation showed that the cyclist had a helmet attached to his rucksack but was not wearing it at the time.
Karpinski has no previous convictions.
Reconstruction
Anne Rowland SC, defending, cited an engineer's report showing that the cyclist was visible for about two seconds before the impact.
A reconstruction carried out in the same location by gardaí a week later showed that a truck travelling in front of the bus was practically undetectable once it entered the same shaded area.
The court heard that Karpinski came to Ireland from his native Poland in 2013 with his partner, who is expecting their second child.
Ms Rowland said that after this incident, the bus company offered to let Karpinski continue driving until the court proceedings, but he said he will never drive a bus again.
"There is no question but that he has tremendous remorse," Ms Rowland said, adding the depth of Karpinski's sorrow will never leave him because, as he said himself: "A human being has lost his life because of me."
The court heard that Karpinski continues to suffer with his mental health since the incident but has moved to Cavan where he works in a factory.
References attesting to Karpinski's good character and the devastating impact of this incident on him were presented to court.
Ms Rowland noted the "extremely rare and compassionate" attitude of Mr Hayden's mother who forgives the accused.
Judge Nolan said Karpinski was a "man of conscience" and was suitably remorseful. Karpinski was not disqualified from driving.