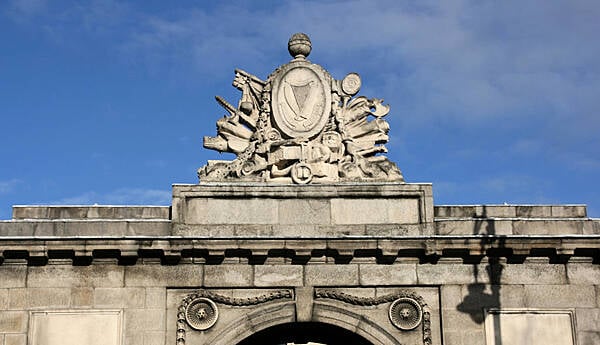 High Court reporters
Dublin City Council is being sued in a multi-million euro claim by a man who says he suffered life-changing injuries after he fell off his electric bike as he travelled along a Dublin city centre cycle lane.
The action is believed to be one of the first personal injuries claims before the High Court in relation to alleged injuries as a result of an accident involving an electric bike.
The High Court was this week told that the claim is "very substantial" and special damages, including future care costs and loss of earnings, runs to millions of euro. All the claims are denied and full defences have been filed in the action.
A judge has already ruled that the man who suffered a catastrophic brain injury cannot be identified.  The man who was wearing a helmet at the time of the accident in a city centre cycle lane three years ago has claimed he sustained catastrophic injuries and his head allegedly struck a series of granite separators or bollards.
He has sued Dublin City Council and the designers of the cycle lane in Dublin city centre, AECOM Ireland Ltd with registered offices at Lower Hatch Street, Dublin over the accident.
AECOM has joined construction company Clonmel Enterprises Ltd of Naas, Co Kildare, which carried out work on the cycle lane as a third party to the proceedings.
The case is listed to go ahead in May before a High Court judge.
It is claimed that the man sustained personal injuries, loss and damage as a result of the alleged negligence and breach of duty on the part of the defendants, their respective servants and agents in or about the maintenance, design, upkeep and condition of the cycle track.
It was claimed that the man was cycling on his electric bicycle when he was allegedly caused to fall due to the alleged design and layout of the cycle track and a pedestrian plaza at the location.
It is further claimed there was an alleged failure to give any sufficient consideration to the difficulties that were allegedly likely to arise from the intermingling of pedestrians and cyclists at the location.
Kerb height
An uneven raised kerb of between 60mm to 70mm in height, it is claimed, was allegedly permitted to be present at the location when, it is claimed, they knew or ought to have known that a kerb of that height allegedly presented a hazard and a danger to cyclists using the cycle track.
It is also contended that there was an alleged failure to provide a soft kerb of up to 50mm, which would have enabled cyclists to traverse it or a standard kerb of between of 100mm to 150mm which, it is claimed, would have alerted cyclists to the potential danger of seeking to traverse the kerb.
It is further claimed there was an alleged failure to take any or any adequate measures to prevent or discourage cyclists from veering off the cycle track and into the alleged hidden danger that the kerb presented.
There was also, it is claimed, an alleged failure to take any or any adequate cognisance of alleged previous accidents involving cyclists in the area.
As a result of his injuries, it is claimed the man is unable to live independently, work or engage in his previous family and social activities.
All the claims are denied.
In the High Court this week, Mr Justice Michael Hanna gave discovery of documents to the third party Clonmel Enterprises Ltd against AECOM Ireland Ltd, including for a period after the accident.
Counsel for Clonmel Enterprises Elaine Morgan SC told the court it was their case that Clonmel did exactly as required by AECOM. It was their case she said they were contracted by the council but supervised in the works by AECOM. Counsel said it was a very substantial case.
Counsel for AECOM Joe Jeffers SC said the company had already made extensive discovery of up to 8,000 documents in the case. He said the case was in relation to the height of the kerb and it was their case they had provided a detailed design on the matter.