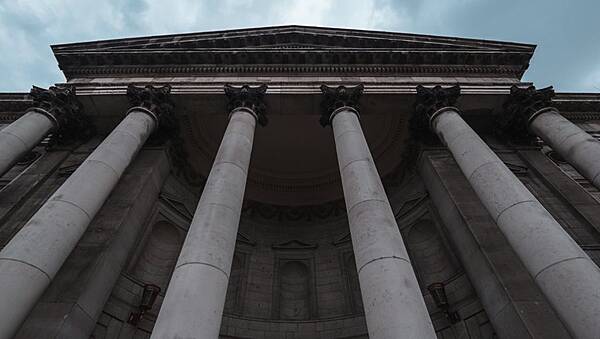 Ray Managh
Convicted murderer Eamon Cumberton, who was injured in a road traffic accident, turned down a settlement offer of €27,000 from the Injuries Board, the Circuit Civil Court was told Wednesday.
Cumberton, who went to court looking for more and gave evidence of his injuries by video link from his cell in Portlaoise Prison, was awarded €17,500 damages on Wednesday by Judge James McCourt.
In his failure to beat the Injuries Board offer he loses the right of recovering any legal costs against AXA Insurance.
AXA were the insurers of defendant Robert Graczyk, The Old Vicarage, Swords, Co Dublin, in whose car Cumberton had been a passenger when it struck another vehicle as Graczyk drove the wrong way down a one-way street, the court heard.
Life sentence
Cumberton, 34, formerly a professional mixed martial arts fighter who lived in Mountjoy Street, Dublin 7, is serving a life sentence for the murder of Michael Barr in the Sunset House pub in April 2016.
When he pays the costs of his own legal team – a Circuit Court case averages between €17,500 and €20,000 – he will be left with nothing.
Liability for causing the accident near Ballymun in July 2014 was conceded by AXA on behalf of its client, Graczyk, so Judge McCourt was asked to hear Cumberton's evidence by video-link and examine medical reports in order to assess what compensation Cumberton should receive.
Cumberton, with a moustache and wearing gold rimmed spectacles and an open necked black shirt with a UnderArmour logo, told Judge McCourt he was a passenger in Graczyk's car when Graczyk had been distracted by his phone and turned down a one way street, colliding with a parked car.
He agreed with counsel for AXA that he remained in the car until firemen arrived and cut off the roof to lift him into an ambulance and take him to the emergency department of the Mater Hospital where he was treated for his injuries and detained overnight.
Ju-jitsu competition
He said that afterwards he had difficulty with pain in his back and right knee. He told Judge McCourt that prior to the accident, despite participating in a sport in which he would receive punches and kicks to his body and head, he had no back or knee complaints.
While, after the collision, he had been able to attend gym sessions and spar with colleagues he had to abandon his professional MMA career despite having achieved third place in an open European ju-jitsu competition 18 months after the crash.
He told the court he still had difficulty with pain in his right knee and agreed with his counsel that his depression and the pain in his back and sternum and other lesser injuries had cleared up.
Cumberton said he had gone to Serbia in early 2015 for an implant to help him beat his heroin habit.
Judge McCourt, awarding Cumberton damages of €17,500 said his injuries, apart from his knee, had cleared up, although he had been distressed because he could not compete in his sport at the highest level.
The judge said he had based his assessment of damages on the evidence given by Mr Cumberton and from medical reports provided for the court. When told he had refused a €27,000 assessment by the Injuries Board the judge said he could not make an order for legal costs in favour of Mr Cumberton as he had failed in court to beat the higher Injuries Board assessment.
Cumberton, while giving his evidence, was shown on two large screens on the wall of the court behind Judge McCourt's position and on a screen directly in front of the judge.