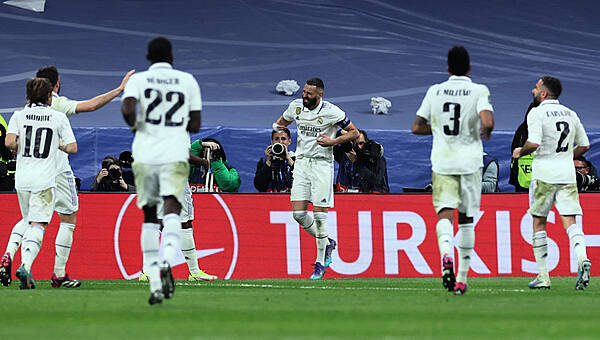 By Carl Markham, PA, Madrid
Liverpool's impossible job against Real Madrid in the Bernabeu proved exactly that as there was no dramatic comeback and a 1-0 defeat saw them exit the Champions League without much of a fight.
All the damage had been done in the first leg but even with a 5-2 deficit there remained the romantic notion among the die-hards and dreamers that Jurgen Klopp's side could fashion a performance to rival that of Istanbul 2005 or Anfield 2019 against Barcelona.
Klopp gave his side a one percent chance ahead of the game but had it not been for the brilliance of goalkeeper Alisson Becker all hope would have been extinguished in the opening quarter.
This was the 14-time winners' 300th Champions League match and all that experience showed with a balanced and controlled display of sharp attacking and tidy defending capped by a goal from their long-time nemesis Karim Benzema.
However, it may be Liverpool's last in the competition for a while unless they can iron out wild inconsistencies in their domestic form.
In truth few players, their goalkeeper excepted, reached the level required to properly trouble the defending champions never mind threaten an unlikely comeback.
Liverpool needed their big name and most experienced players, many of them Champions League winners, to drive the team forwards while cajoling something out of the raw talent of Darwin Nunez and Cody Gakpo.
But players like Mohamed Salah, Fabinho and Trent Alexander-Arnold never got to grips with the game and that asked too much of the likes of Nunez, substituted in the 57th minute, and Gakpo.
And it was a misjudgement by one of their most experienced Virgil van Dijk, allowing Vinicius Jr a second chance to pass to Benzema to slot into an open goal and eventually kill off their remote hopes in the 78th minute.