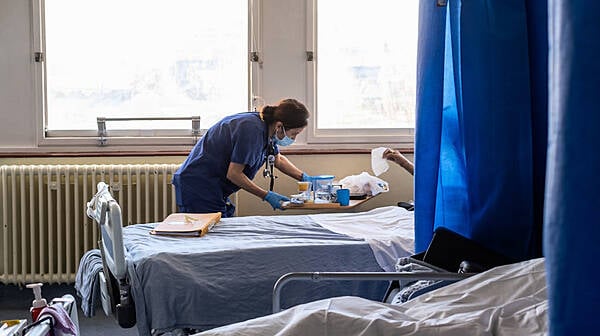 Vivienne Clarke
Crowded emergency departments (EDs) are the "new normal" in the health system, Dr Mick Molloy of the Irish Medical Organisation's Consultants Committee has said.
"This is no longer a surge, this is our new normal. This is the level of attendance across the country, it's not one individual hospital," he told RTÉ Radio's Morning Ireland.
Patients who had been on waiting lists for years viewed EDs as a way to get their surgery, he added.
"They see the emergency departments as the only solution. Now, add that we've got a rapidly ageing GP population and not enough people coming in to replace the GPs who retire, and the extreme difficulty there is with getting GP appointments at the moment because of the limited number of GPs and the capacity deficits.
"Again, the emergency departments seems to be the pressure valve in the system, so those who enter the emergency department don't all need to be admitted. Of the 100 patients who come into the emergency departments, only about 20 to 22 of those need to be admitted to the acute system.
"We just don't have the bed capacity to admit all those patients now. So there were bed capacity reports done over two decades ago when the current Tánaiste [Micheál Martin] was minister for health, which promised an additional 5,000 beds by 2011. That has never happened," Dr Molloy said.
Every hospital is trying to perform "far in excess" of how they were planned, he added.
"In fact, the hospital system and the health service wasn't really planned in an organised way. It's developed over the last 200 years. We're now in a situation where the population demand is so much that the current bed capacity is insufficient to deal with the population we have."
Elective care
He said the lack of investment in expanding bed capacity can be seen in both the shortage of acute, emergency beds, and those for elective hospital procedures, both of which need to be "significantly enhanced".
"If you're waiting for two, three, four years for surgery, which hasn't happened, a lot of people will turn up to the emergency departments and pretty much say they're not going anywhere until they get admitted to have their surgery."
When asked about plans for new units, Dr Molloy said: "There are lots of plans, but I think you could build a house with all the plans, and you could certainly build a hospital with all the reports that have been published, you'd certainly have enough material for foundations.
"If half a million people came from abroad today and there was no hotel accommodation for them, you would not have the same situation the next year. That is the volume of people potentially who are left without beds every single year because there's no hospital capacity, and it's a year-on-year problem."
He said there should not be a single person waiting on a trolley and large hospitals should not be operating beyond 85 per cent capacity, while medium-sized hospitals should not exceed 75 per cent. However, in practice, hospitals around the country are operating at 100-130 per cent on a daily basis, "which is unsafe, and people do die unnecessarily because of this".
Apart from increasing the capacity dramatically, there's very little else that can be done
At the moment hospitals have to deal with the people who are "the sickest, the most hurt, for want of a better term, and ensure that their needs are met as soon as possible," Dr Molloy said.
"After that, you go down a triage system dealing with the less urgent problems.
"Unfortunately, the people who are on trolleys are deemed to be those who can wait longer than the most urgent patients. Apart from increasing the capacity dramatically, there's very little else that can be done."
He said we have been talking about capacity in the health system for "20-odd years" but the resourcing has not been put into the system.
"I don't understand the maths of somebody, a minister or representative from the HSE or Department of Health, coming on every Christmas and telling us we added this number of extra beds into the system.
"When I look at the system I go: 'Hang on, there's nothing extra.' They must have taken a lot of beds out every year if we're at this point now where they say there's 2,000 extra, but I don't see an extra bed in the system."