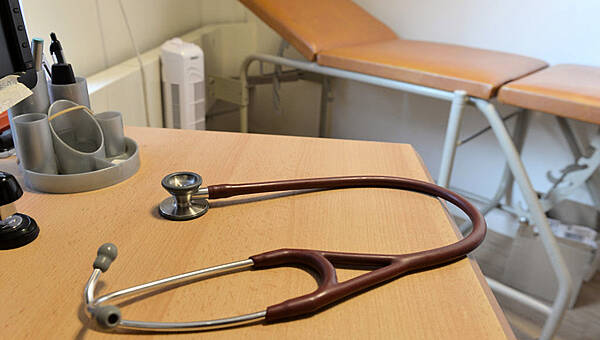 Seán McCárthaigh
A locum GP has been cleared of a charge of professional misconduct for giving an alleged "sexually motivated" massage to a female patient who attended his late-night surgery in Cork over four years ago.
However, Dr Syed Rafaqat Ali Shah was found guilty on two other counts of professional misconduct over inappropriate contact with the same woman by phone and text over the following weeks.
A fitness-to-practise committee of the Irish Medical Council said the motivation for sending the woman, known as Patient A, a series of WhatsApp messages was "deeply suspicious and troubling".
The committee ruled the allegation that Dr Shah had massaged the woman's buttocks "in a manner that was sexually motivated" after giving her an injection at the SouthDoc clinic in the South Ring Business Park in Ballyphehane on September 25th, 2018 had not been proven beyond reasonable doubt.
Dr Shah had claimed that the allegation was "fake and racist".
A two-day inquiry held earlier this week heard evidence that Patient A had found the incident in the surgery "slightly unusual" and had a sense the GP was "a small bit attracted" to her.
However, the FTP committee chairman, Joe McMenamin, noted that an expert witness had told the inquiry that it was common practice for a doctor to massage a muscle following an injection.
At the same time, Prof McMenamin said the committee had regarded Patient A as a truthful witness.
WhatsApp messages
Dr Shah, who was employed at the time by Locumotion, a Dublin-based medical recruitment agency, was also found guilty of professional misconduct for sending WhatsApp messages to the woman four days later at 5.30am.
Evidence was heard that there was no clinical reason for contacting the patient.
Patient A told the inquiry that it was unlikely she would have reported the incident involving the massage to her buttocks to SouthDoc but for receiving the unexpected WhatsApp texts from Dr Shah.
"It made what I thought was odd before a little bit odder," she remarked.
However, Patient A said she felt it was important to notify somebody about what had happened "in case someday something worse could happen".
Patient A said she did not initially know who had sent the message, but she recognised Dr Shah from the image on the sender's profile and questioned if it was the doctor.
The inquiry heard that Dr Shah replied: "God bless you" which ended the exchange.
Prof McMenamin said the contact by the GP was "wholly inappropriate and unwarranted" and noted Dr Shah had previously received advice that as a locum he should not have or use the phone numbers of patients.
He said Dr Shah's claim that he had obtained Patient's A number from her letter of complaint to SouthDoc was "not credible" as she had not made a complaint at that time.
The 34-year-old locum, who qualified as a doctor in his native Pakistan in 2014, was also found guilty of professional misconduct for falsely claiming to be his own lawyer in a call made to Patient A on October 10th, 2018.
The inquiry heard that the number from which the call was made was one submitted as a contact number by Dr Shah to both SouthDoc and the IMC.
The GP had also answered the same number when it had been called by a Locumotion manager.
Prof McMenamin observed that Patient A had been frightened by the call and was concerned about the security of her personal details.
Breach of trust
In a ruling delivered on Thursday, he said the WhatsApp messages were a very serious matter and represented a serious breach of trust by Dr Shah and a serious falling short of the conduct expected of doctors.
"There was no clinical or other good reason for a text message at 5.30am" remarked Prof McMenamin.
He said the call where Dr Shah dishonestly represented himself as his own solicitor was "egregious" and "a conscious wrong-doing", particularly as it was made in the aftermath of Patient A having made "an entirely proper" complaint about him.
"To describe this communication as inappropriate does not do justice to the gravity of the misconduct," said Prof McMenamin.
The committee concluded that the GP's conduct was "disgraceful and dishonourable".
Prof McMenamin said Dr Shah's conduct did not constitute poor professional performance as the proven allegations did not relate to clinical issues.
Dr Shah, who did not attend the hearing and who was not legally represented, complained to the IMC that he did not believe he would be treated fairly at the inquiry and pointed out his application to have it held in private had been refused.
Dr Shah also claimed the inquiry would add to his existing stress, trauma and mental health issues.
The inquiry heard he had worked in Ireland between August 2018 and June 2019 and had also spent time working as a locum with Shannondoc in Limerick, Centric Health in Ennis and Nenagh General Hospital.
The GP, who is now believed to be based in Dubai, also worked at a number of SouthDoc clinics including Cork, Killarney and Tralee.
Dr Shah's entry on the IMC's medical register records that he has provided the High Court with an undertaking not to practise medicine or seek to practise medicine in Ireland until further notice.
The FTP committee will convey its recommended sanction on Dr Shan, which is not made public, to the IMC.