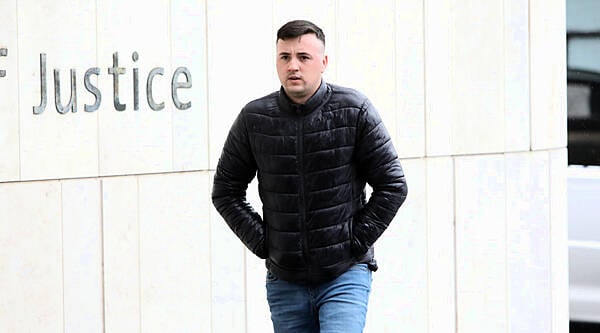 Jessica Magee
A man convicted of laundering over €50,000 linked to an invoice redirect fraud is to be assessed for community service in lieu of serving a prison sentence.
Francie Stokes (23) of Ballyowen Lane in Lucan, pleaded guilty to possessing €52,355 as the proceeds of crime in his AIB bank account on Main Street, Lucan, Co Dublin on June 2nd, 2020. Dublin Circuit Criminal Court heard that the money had been transferred fraudulently from a legitimate aviation company based in Germany.
At a hearing on Thursday, Judge Martin Nolan adjourned the case for 10 weeks to allow the Probation Services determine whether Stokes is suitable to carry out community service.
If suitable Judge Nolan said that he will order Stokes to carry out 150 hours of community service within the period of one year, in lieu of 18 months in prison.
Detective Garda Hugh O'Carroll told Aoife McNicholl BL, prosecuting, that AIB alerted gardaí to a suspected fraudulent incoming payment from an account in Germany. The court heard that AIB managed to recover €28,000, but that around €24,000 remains outstanding as it had already been withdrawn.
ATM withdrawals
Det Gda O'Carroll said there had been a number of ATM withdrawals and some larger withdrawals via internet transfer. CCTV footage of the ATM withdrawals showed multiple people making the transactions, but none of them were the accused, the court heard.
Stokes attended Lucan Garda Station by appointment and was arrested on suspicion of money laundering. Gardaí discovered that Stokes had been in receipt of the Pandemic Unemployment Payment of between €300 and €350 a week, and that there was no legitimate source of the €52,000.
Det Gda O'Carroll said Stokes exercised his right to silence when interviewed by gardaí but was polite and respectful at all times. The court heard Stokes got probation of one month in October 2021 for laundering €3,000 in April 2020.
"He was a money mule at the bottom of the ladder," said Det Gda O'Carroll.
David Fleming BL, defending, said Stokes had been abusing cocaine at the time and had a drug debt.
"He was undeniably stupid and found himself in this situation entirely of his own making," said Mr Fleming, who also described Stokes as "wilfully naive".
Counsel said Stokes is married with two children and worked full time in ground works. He has employment guaranteed for the next year and is the breadwinner for his young family, counsel added.
The court heard Stokes has no previous record other than the earlier money-laundering of €3,000 and has not been trouble with gardaí since this incident.
"Stokes certainly acted in a reckless way," said Judge Nolan, taking into account all the mitigating factors in the case before adjourning the matter until June 15th for finalisation.