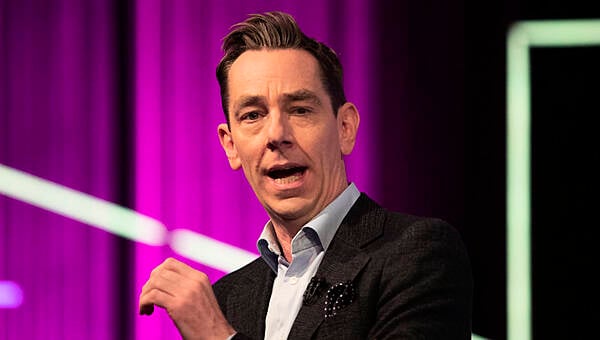 Kenneth Fox
RTÉ has announced that Ryan Tubridy will step down from The Late Late Show at the end of the current season.
Tubridy took over the role of host from Pat Kenny back in 2009 with his first guest being the then taoiseach Brian Cowen. The original Late Late show host Gay Byrne was also a guest on the show later in the year.
Commenting on his decision, Tubridy said: "It has been a privilege to host the national institution that is the Late Late Show for the last 14 years.
"I want to thank the tremendous teams of producers, researchers, crew and executives who have done the hard work to keep the show on the road over the years. Many have become dear friends.
"Also, to the viewers, I am so grateful for the loyalty you have shown to the Late Late Show, week in, week out. Not only did you raise €30 million for Irish charities including over €15 million for children's charities all over the island that are particularly close to my heart, but you showed incredible generosity of spirit for which I am profoundly grateful.
"I was often touched by the kind comments of viewers stopping me on the street or at the supermarket on a Saturday to say 'thank you' or 'well done' for highlighting an issue that affected them or their families on the previous night's show. Go raibh maith agaibh.
"And finally, to my family who stood by me every day of every week, year in, year out. To my daughters especially, they put up with so much and I am as grateful to them as I am awestruck by them."
RTÉ director general Dee Forbes said: "I would like to thank Ryan and acknowledge his enormous commitment to the Late Late Show during the seven years I have had the privilege to work with him. The Late Late Show is a TV phenomenon at home and abroad which continues to hold a special place in Irish life and Ryan can take enormous credit for that.
"He had big shoes to fill, but he has made the show his own over the past 14 years.
"The transformation of the Late Late Toy Show into a national event celebrating Irish children and the most popular television programme in Ireland every year is testament to his talents as a broadcaster and his ability to create a unique connection with children and audiences all over Ireland, and beyond.
"There are so many great memories and special moments to look back on, and more to come, which we will rightly celebrate in the months ahead."
Tubridy will present his final Late Late Show at 9.35pm on Friday, May 26th on RTÉ One but will continue to present his radio show on weekday mornings on RTÉ Radio 1.
RTÉ has not yet made any decision regarding the next presenter of the Late Late Show, but said an announcement will be made later in the summer.