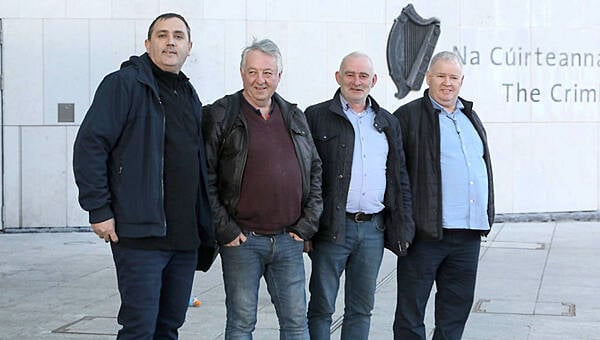 Declan Brennan
A security guard has told the Roscommon eviction assault trial has said he was expected to find charred dead bodies when he went back to the site of the alleged attack by a large group of men.
The property was repossessed on December 11st, 2018 and several security men were left to guard the 30-acre estate. It is the State's case that five days later, at around 5am on December 16st, a group of approximately 30 armed men, some wearing balaclavas, arrived at the rural property and attacked four of the security guards present.
Patrick Sweeney (44) of High Cairn, Ramelton, Co Donegal, Martin O'Toole (58) of Stripe, Irishtown, Claremorris, Co Mayo, Paul Beirne (56) of Croghan, Boyle, Co Roscommon and David Lawlor (43) of Bailis Downs, Navan, Co. Meath have pleaded not guilty to 17 charges each at Dublin Circuit Criminal Court.
Each is separately charged with false imprisonment of and assault causing harm to four security personnel at Falsk, Strokestown on December 16th, 2018. Each is also charged with aggravated burglary, as well as four charges of arson in relation to a car and three vans which were allegedly set alight.
The four are also each charged with criminal damage to a door of a house, violent disorder, robbery of a wristwatch from John Graham and, finally, causing unnecessary suffering to an animal by causing or permitting an animal to be struck on the head.
On day ten of the trial, security guard Michael Kane told the jury that he was asleep in one of the security vans on the property at around 5am when he was awoken by roaring and shouting. He said he got out of his sleeping bag and exited the van and saw his colleague Ian Gordon running with his guard dog on a leash.
Fled fearing death
He told Seamus Clarke SC, defending Mr Lawlor, that Mr Gordon was running towards the rear of the house where the noise was coming from. He said he was about ten metres from Mr Gordon when he saw someone strike Mr Gordon and Mr Gordon falling to the ground.
Asked if he could hear the sound of a chainsaw, Mr Kane told Mr Clarke he heard a big, loud mechanical sound. He said he met three other security men in the yard and "we looked at each other, and said 'we are gonna get killed here, we need to get out of here'".
He said they "bolted" and he went up around the cattle shed and into an adjacent field. He said that he only went back to the property when he saw the lights of emergency vehicles.
Mr Kane said the scene then in the yard was "horrendous" and that "everything was on fire". The jury has heard that two cars and four vans were set alight during the incident.
Mr Kane said that when he saw Mr Gordon he was so relieved because "I thought I was going back to see dead bodies, charred dead bodies".
He said he then went back into the house to look for the bodies of his colleagues. He said he was in the living room of the house when he saw a number of body-cams scattered around and he gathered these up along with chargers and cables and put all this in a box.
He said he gave this box to Mr Gordon who then passed it on to Ian Devlin, from Trinity Asset Management. Seán Rafter BL, for Mr O'Toole, put it to the witness that Mr Gordon has given evidence that he has no recollection of being given this box.
Mr Kane said he could have sworn this is what happened but that they were both under a lot of stress at the time. He agreed that he took one of the body-cams out as he thought, from the serial number, that it was his, but he agreed that it later transpired he was mistaken.
He said the footage from this body-cam was played to him in a garda station. The footage was played to the jury and shows around four men, one holding a chainsaw and others holding wooden sticks, entering the kitchen at the back of the house.
Mr Kane confirmed that he did not record this footage and he was not in the house during any of the incident.
The trial continues before Judge Martina Baxter and a jury.