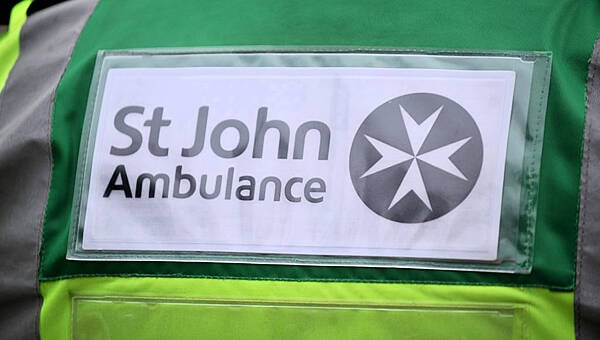 Cillian Sherlock, PA
Voluntary first aid charity St John Ambulance Ireland has apologised for its failures to all victims and survivors of sexual abuse at the organisation, noting its structures "facilitated grooming and predatory behaviour" in the past.
The apology coincides with the release of an independent review into the handling of past complaints of abuse by St John Ambulance Ireland (SJAI).
The review was led by Dr Geoffrey Shannon and also examined the adequacy of current protection arrangements for children and vulnerable adults.
The report noted that while many participants at SJAI had positive experiences, several victim-survivors suffer ongoing and persistent trauma as a consequence of abuse.
Some victim-survivors described lengthy campaigns of sexual harassment and sexual assault.
The report said the structure and culture of the SJAI left it open to grooming and sexual abuse of children.
"SJAI's accountability systems failed to intervene or investigate suspicions or knowledge of child protection risks despite potential risks being highly visible," the report said.
The review believes there was a "significant degree of organisational awareness" of the threats to children and that the SJAI failed to undertake any meaningful investigation prior to 2010.
It said it believes SJAI's failure to act was partially based on a fear of litigation and an avoidance of responsibility was "primarily due to a desire to protect the reputation of the organisation".
It said it believes some issues remain with regard to governance and management of cadets, including supervision and ensuring safety.
It also criticised document and file management within SJAI.
The review also found that SJAI has been in a period of reform since 2011 and this represents a meaningful attempt to introduce a child protection system.
It said until the early to mid-2010s, the system was inadequate and dysfunctional.
The review made several recommendations including putting in therapeutic support for those who came forward to speak, a broad re-examination of internal governance, and enhanced communications processes for complaints.
The report said it sees a "clear distinction between the SJAI in the past and today" in terms of the central importance it places on child safeguarding obligations.
However, it said a "change in culture and ethos is needed within SJAI" and said the organisation should abandon its military and hierarchical structures which "do not have a place in a modern volunteer organisation".
It said the national safeguarding officer should be independent of the SJAI.
In its written apology, SJAI chairman David Strahan and commissioner John Hughes said: "We are sincerely sorry for the hurt that was caused to you, your families and your friends, by the failings of our organisation.
"Please be assured that you have been listened to and are believed. It is a source of great disappointment that this was not always the case.
"We fully accept that the organisation's structures facilitated grooming and predatory behaviour in the past."
It added: "We are committed to supporting you in any way possible and working to ensure that past failings in our duty of care to our members are never repeated."
The SJAI Board accepted all recommendations and has prepared an implementation plan.
A new board will be constituted later this year.
---
If you have been affected by any of the issues raised in this article, you can call the national 24-hour Rape Crisis Helpline at 1800-77 8888, access text service and webchat options at drcc.ie/services/helpline/, or visit Rape Crisis Help.
In the case of an emergency, always dial 999/112.