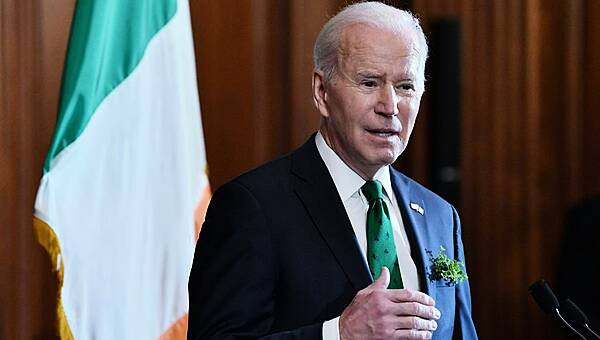 Kenneth Fox
US President Joe Biden will welcome Taoiseach Leo Varadkar to the White House later on Friday for the annual St. Patrick's Day ceremony.
It will be the first time in three years that a Taoiseach will meet the US president in person due to the Covid-19 pandemic.
The traditional reception was cancelled in 2020, and Michéal Martin spoke with Biden virtually the last two years.
In a statement, White House Press Secretary Karine Jean-Pierre said: "The leaders will reaffirm the close and historic partnership between the United States and Ireland and the extraordinary bonds between our people.
"They will discuss their countries' shared commitment to continue supporting Ukraine in the face of Russia's brutal aggression, as well as their cooperation on a range of other global issues.
"They will reaffirm their steadfast support for the Good Friday Agreement as we approach its 25th anniversary and welcome the recent agreement between the UK and EU on the Windsor Framework as an important step in preserving the Agreement's peace dividend,
Today, on St. Patrick's Day, we celebrate the fact that the fabric of modern America is woven through with the green of the Emerald Isle. pic.twitter.com/yqTd9CmaiY

— President Biden (@POTUS) March 17, 2023
Vice President Kamala Harris and Second Gentleman Douglas Emhoff will almost host the Taoiseach and his partner Matthew Barrett for a breakfast at the Naval Observatory on March 17th as well.
The event has been somewhat overshadowed by comments made by Mr. Varadkar about his internship during the President Clinton era.
He said it was during a time "when some parents would have had cause for concern about what would happen to interns in Washington."
It is being seen as an apparent reference to the Bill Clinton-Monica Lewinsky scandal.
A spokesperson for Mr Varadkar said in a statement following the event: "At the Washington Ireland Programme event today, the Taoiseach was reminiscing about his time in Washington DC as an intern 23 years ago.
"He made an ill-judged off the cuff remark which he regrets. He apologises for any offence caused to anyone concerned."