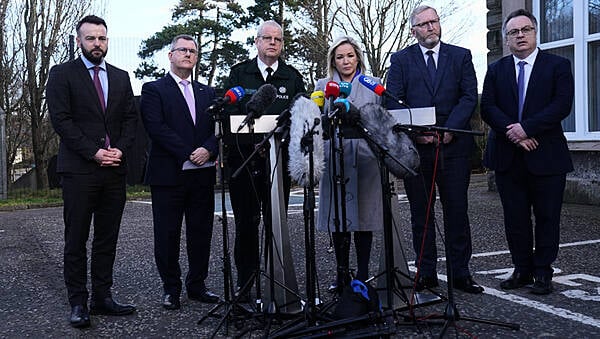 By Gráinne Ní Aodha, PA in Washington DC
President Joe Biden has praised Northern Ireland's political leaders standing together following the attempted murder of a police detective.
Police Service of Northern Ireland Detective Chief Inspector John Caldwell remains in a critical but stable condition after being shot multiple times at a leisure centre in Omagh, Co Tyrone, last month.
The New IRA, an armed dissident republican group opposed to the peace process, has been blamed for the attack on the high-profile officer.
Following the murder bid, senior figures from the main Stormont parties went together to meet PSNI Chief Constable Simon Byrne to receive an update on the incident.
Afterwards, they stood side by side along with Mr Byrne to condemn the attack and express solidarity with the police.
The show of togetherness came despite political upheaval at Stormont that has seen powersharing put in cold storage due to an impasse over post-Brexit trade.
Mr Biden referenced the incident in a speech at a St Patrick's Day lunch hosted by Speaker Kevin McCarthy on Friday.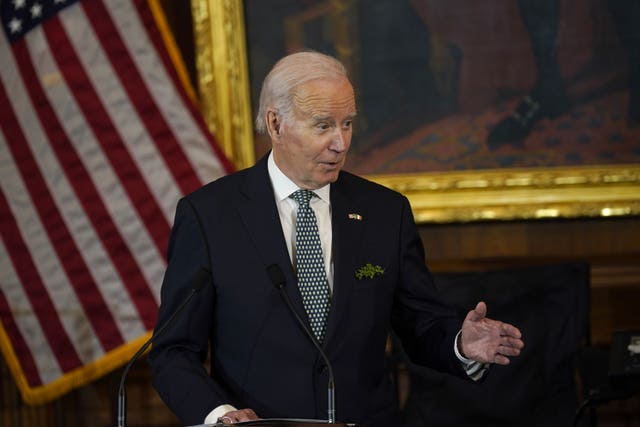 Mr Byrne was a guest at the lunch in Washington DC, as were the leaders of the five main Stormont parties.
Sinn Fein President Mary Lou McDonald sat at the same table as DUP leader Sir Jeffrey Donaldson.
"Northern Ireland leaders that are here today, let me say how important it was to see you standing shoulder to shoulder with Chief Constable Byrne confirming your commitment to the future following the attempted murder of Detective Chief Inspector Caldwell," said Mr Biden.
"We all have to continue to work to protect peace and stability."