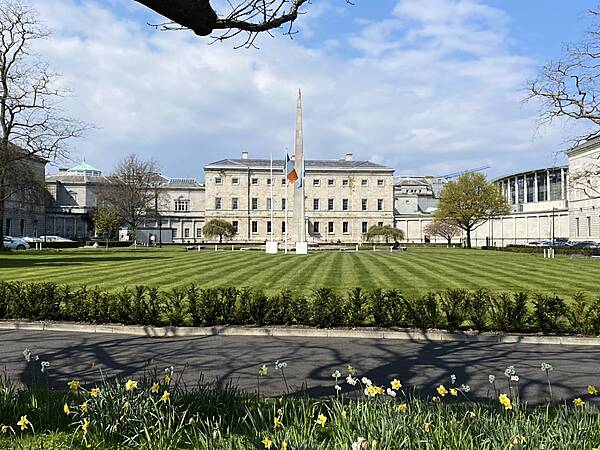 Seán McCárthaigh
TDs and senators ordered almost a quarter of a million calendars, Christmas cards, sympathy cards and similar stationery from the Oireachtas printing facility last year with one Government minister accounting for over a quarter of the total.
Figures obtained from the Houses of the Oireachtas show 236,945 items of stationery including greetings and congratulations cards were obtained from the taxpayer-funded service in 2022 with Minister of State at the Department of Justice, James Browne ordering 63,000 calendars.
The bulk order of personalised calendars by the Fianna Fáil TD was the largest single order by any politician last year at an estimated cost of just over €1,724.
The estimated cost of the print orders by the Houses of the Oireachtas is based on the cost price of "print and ink" and is substantially lower than prices paid for similar material sold commercially.
The figures exclude orders for newsletters which are another popular item of stationery among elected representatives as well as free envelopes and headed notepaper.
Mr Browne said the calendar was not the main purpose of the leaflet on which it was printed.
Instead, the Wexford TD said its main reason was to provide constituents with emergency support and helpline numbers as well as raising awareness of the contact details for his own office which explained why he did not get a "standalone" calendar printed.
"We get very positive feedback every year on the emergency and helpline numbers which serve an important purpose," he added.
Almost 185,000 calendars were ordered by 15 different politicians last year with other large quantities sought by another Fianna Fáil junior minister, Niall Collins (35,000) as well as Fine Gael junior minister, Patrick O'Donovan (11,000) and independent TD for Limerick, Richard O'Donoghue (10,000).
Independent Kerry TD, Michael Healy-Rae ordered 20,100 calendars as well as 3,000 congratulations cards and 300 Christmas cards for a combined cost of €1,044.
His brother and constituency colleague, Danny Healy-Rae also made prolific use of the printer by ordering 10,200 calendars and 1,500 Christmas cards printed.
He also ordered 1,600 sympathy cards – more than 400 above the average number of people who die in Co Kerry each year.
Both Healy-Rae brothers have been criticised in the past for attending the funerals of people they did not know and sending "bereavement packets" to constituents.
A Fianna Fáil councillor from Glenbeigh, Michael Cahill accused the two independent TDs in 2016 of insulting the deceased and their families with their habit of going to requiem masses for people unknown to them.
However, Danny Healy-Rae defended his use of various items of stationery and claimed constituents would even ring up looking for his calendars.
He justified the quantity of sympathy cards ordered by explaining that he could send more than one sympathy card to members of a bereaved family as "some people might be away."
"I know I was running out of them recently but I can assure you I'm not throwing them on the fire," he remarked
However, the largest quantity of sympathy cards last year was ordered by Fianna Fáil TD, Niamh Smyth with a print run of 2,000 – more than twice the average annual number of people who died in her Cavan/Monaghan constituency.
Ms Smyth, who also ordered 5,000 calendars and 2,000 greeting cards, did not respond to a request for comment despite being informed of the various print orders she had commissioned during 2022.
Figures released under freedom of information legislation, show Oireachtas members ordered almost 32,000 Christmas cards last year with Labour senator, Rebecca Moynihan placing the biggest order to send seasonal greetings – 2,100 cards.
Ms Moynihan explained that she had submitted the print order on behalf of herself and her party's three other senators, Annie Hoey, Marie Sherlock and Mark Wall.
"Every year, one of us orders Christmas cards on behalf of all of us which we send to councillors around the country. We found it an easier and better way than each sending individual cards," said Ms Moynihan.
Christmas cards were also in big demand by the acting Minister for Justice and Minister for Further and Higher Education, Simon Harris and Fianna Fáil senator, Erin McGreehan who ordered 2,000 each.
The current Taoiseach and then Tanaiste Leo Varadkar was among 42 TDs and senators to order Christmas cards with the Fine Gael leader submitting a request for a modest 450 cards at an estimated cost of €45.
According to the Houses of the Oireachtas, use of the free printing service is governed by rules which stipulate material ordered must be solely in connection with "parliamentary duties."
It allows material for communicating with constituents on local or general public interest issues, government policies and legislation, including newsletters, flyers, business and Christmas cards.
TDs and senators cannot use the service for corporate material such as fundraising, overt electioneering material, content which promotes a private enterprise, or material which is designed to influence how to vote in a referendum.