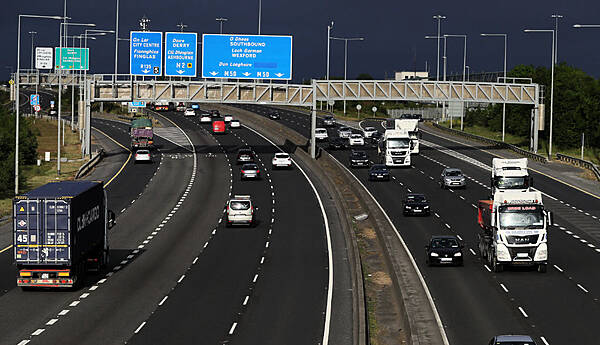 Tom Tuite
An 18-year-old in Dublin accused of leading gardaí on a high-speed car chase swerved between on-coming traffic on the wrong side of the M50, a court has heard.
Gardaí arrested Sean Carlyle, 18, of Derry Drive Crumlin, and charged him with motor theft, criminal damage and dangerous driving offences in connection with the incident at about 4.40 pm on Friday.
He faced bail objections when he appeared at a weekend sitting of Dublin District Court.
Garda Jeff Dolan said the teenager did not reply to some charges, but to others, he answered: "Sorry about that" and "I'm really sorry, I should not have gone on the wrong side of the road".
Garda Dolan alleged when the accused was observed, he drove off and went on the wrong side of Walkinstown Roundabout before "a high-speed traffic pursuit".
The garda told the court the teen was followed on to the Long Mile Road and Naas Road, later made his way to the M50, and "travelled southbound on the northbound lane".
Garda Dolan added that the car did not travel on the hard shoulder but "used lane one, two and three, swerving between on-coming traffic".
The court heard further dangerous driving incidents in the west of the city.
It was also alleged the vehicle had fake registration plates and was abandoned after a collision.
The youth, dressed in a green tracksuit, white T-shirt and runners, did not address the court.
Following a legal consultation, defence counsel Kevin McCrave (instructed by solicitor Brian Keenan) said his "somewhat vulnerable" client was deferring his bail application.
Judge Gerard Jones remanded the youth in custody to appear at Cloverhill District Court on March 24th. Legal aid was granted.