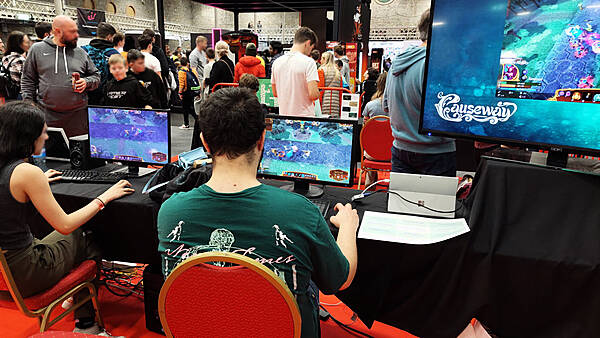 Kenneth Fox
Game development has changed remarkably over the past few decades as the Internet has allowed developers to update games after they have been released, often fixing issues that arise after launch.
It is both a blessing and a curse though as being able to improve the experience after a game is released leads to a more robust product, but it can also be a crutch where developers release a game that has major issues and fix them afterwards.
As Internet access grew gamers starting creating mods (short for modifications) which not only changed things in the game but also added new elements.
For Dublin based developer, Sean 'Softmints' Carton creating mods for games like Starcraft and World of Warcraft was a huge part of his childhood.
"For me Warcraft was the game that completely sold me on modding and I ended up creating stuff for 10 years from 2003 and 2013.
"I really got into a game mode called Defense of the Ancients (DotA) and I ended up making my own map for the game called Dota: Outlands. I started at 13 years of age and people would give me suggestions about what to add to the game through online forums."
The seed of game development was firmly planted and what started out as a hobby became a full-time obsession. He recalls shipping 550 versions of a mod or 10 version a month, only missing two months for his Leaving Cert.
As the Warcraft community dwindled, he started focusing on Multiplayer online battle arena (MOBA) games or what he calls lane pushing games.
They consist of two teams competing against each other on a battlefield with each player having distinct abilities that complement their teammates.
The biggest game in the genre is without a doubt League of Legends which is a global phenomenon and drew close to 5.15 million peak concurrent viewers during last year's World Championship Final.
Like any genre there is always room for refinement, and Sean saw the opportunity to solve one the biggest issues with competitive multiplayer games.
"When you play online, you get exposed to harassment, exclusion and toxic behaviour. The consistency of those negative experiences, made it quite clear that there was a problem to be solved or a gap in the market."
"People often get really upset about it and feel like they are being kicked out of their hobby."
The statistics around online harassment in gaming are grim with a 2019 report from US NGO Anti-Defamation League finding over 70 per cent of adult gamers have experienced harassment online.
Harassment is particularly bad for women gamers with 20 per cent deciding not to play online, instead opting for single player experiences.
With this in mind, Sean set up Kybolt a video game studio based in Dublin with the aim of making a game to deal with this issue.
The answer was Causeway a lane pushing game which aims to teach players how to become an effective leader no matter what type of character you play as.
For us leadership is about inviting other people to participate in a shared vision.
"For us leadership is about inviting other people to participate in a shared vision. It includes things like showing humility, having a sense of humour and encouraging others in the right way.
"Being a good listener is also an important skill as a leader. With Causeway we want to make a game where anybody who plays can feel that leadership is part of the game," Sean says.
One unique way they do this with game design is how the characters are portrayed. Instead of being a hero or a champion you play as a leader.

"These are people who have their own sets of values and principles and people that follow them. They are independent thinkers that can be any age, gender or from any background."
A way the gameplay differentiates itself from others is how the in-game economy is not a zero-sum game. In most games resources are rare and if you gather a resource to upgrade your character you are depriving your teammate of it.
Sean says this can often lead to friction between team members. Instead, in Causeway if one team member is doing particularly well, they distribute resources to the rest of the team based on how far they are ahead of them.
Incentive structure
"Games are all about incentives, our incentive set-up encourages the right kind of dynamics within a team."
Instead of just one support character who heals their teammates, each character has an ability that assists their team in various ways.
"The game is about emergent and organic leadership. To us, it is something that happens naturally as opposed to appointing someone as the leader," he says.
The idea of building a game around mechanics that encourage leadership is quite novel and Sean says he has spoken to other developers that have been impressed by how forward-thinking the game is.
Like anything, there will always be those who do not play by the rules. If someone steps out of line during a game, Kybolt might temporarily suspend their account, but in the end it is always about learning.
"They might not be at the point at their life where they don't fit with the ethos of the game. Hopefully down the line though they see things differently, and we would be more than happy to welcome them back," he says.
Causeway has eight different leadership styles which range from the likes of the pacesetter and visionary to democratic and transactional.
The idea is that no matter who you are, there will be a style that suits you. It also gives you a chance to reflect on areas where you could improve as a leader.
The game is currently in alpha stage meaning the game is still in development, but players can give feedback to developers about what could be changed or improved.
Not only are the developers learning about how to make the game better, those who embrace the ethos of Causeway can learn how to become better leaders in the process.