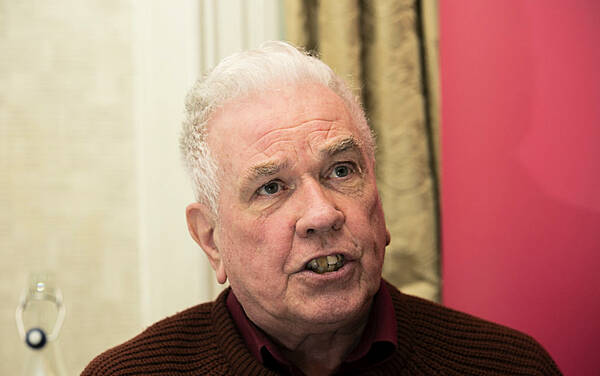 Vivienne Clarke
Veteran homeless campaigner Fr Peter McVerry has described the end of the eviction ban as "a horror movie" for tenants and said he was very concerned about where people were going to find emergency accommodation.
There was no emergency accommodation available around the country, he told Newstalk Breakfast. In the past families would have been put into hotels, but there were no hotel rooms available.
"I'm horrified at what's going to happen in the next few months.
"I am extremely concerned and I think this is a horror movie for all those tenants who have received a notice to quit and they are totally at a loss as to what to do.
"There is virtually no emergency homeless accommodation available anywhere in the country. Normally, families would be put up in hotels, but as we know, hotels are full, and many hotels are reverting back to tourism.
"So I am absolutely horrified at what is going to happen over the next few months."
Fr McVerry said homeless campaigners had been in favour of extending the eviction ban to allow time to put in place mitigation measures. The majority of landlords were leaving the rental market because they needed to sell their property.
"That could have been dealt with by way of an exemption from the ban and the inconvenience to a landlord, to the vast majority of landlords, who want to sell their property. The inconvenience of renting, perhaps another 12 months is utterly minor compared to the trauma that is now going to be inflicted on those households who are facing eviction.
"I am horrified. I think it's an appalling decision. I think the decision was made to prevent this happening in the early months of next year when local and European elections are pending
"There is not one single homeless charity who supports the ending of the eviction ban. Every single charity has come out and said this is a disaster.
"There's no good time to lift the eviction ban. But during the eviction ban, it would have been hoped that measures would have been put in place to mitigate the worst effects of the eviction ban.
"If we had extended it for 12 months, you know, we could have 7000 modular units on site in the next 12 months if we wanted to. Modular unit only takes three months to build and another month, maybe two to put on the ground."
When asked if he had any advice for people faced with a termination notice, Fr McVerry said "I don't have any advice to give them. I'm sorry. To be honest, they are going to be evicted. They're going to be possibly on the street.
"Of course, go to your local council and look for emergency accommodation. If the local council doesn't have it, I don't know what you do, to be honest. Yeah, I mean, that's just the nightmare. That's the nightmare."
On RTÉ radio's Morning Ireland John Mark McCafferty, the chief executive of Threshold cautioned that not all tenancy terminations were valid. "We dispute many tenancy terminations and the notices because there's something wrong with them as they do not follow or comply with the legislation either from a technical point of view or the premise on which the notices issued is wrong or it doesn't match the grounds on which you could you get to end the tenancy.
"Our role is to advise renters of the rates and their options. And also we are tasked with trying to keep people in their rented homes to prevent homelessness from happening in the first place through our tenancy protection service. So we will look at each situation on their merits.
"We'll listen to the situation and the experience of the renter and their family and see if there are things we can do to prolong their tenancy or to protect their tenancy. And one of the ways is to question the validity of the notice. If there are, there are problems or technical issues with it."
Mr McCafferty said that from Saturday, April 1st he anticipated there would be an increase in the number of people coming to Threshold with queries and concerns about losing their home.
Threshold had dealt with 700 webchats in March alone, he said, that was higher than throughout the winter months when the eviction ban was in place.
"We're also anticipating about 430 termination cases for the end of March. That's live cases where people came to us in March, where a notice of termination has been signaled by their landlord. I think it's also important to note that our advisers are also working on existing cases from September, October of last year. They were paused during the eviction ban, but they come back into play from tomorrow."
Mr McCafferty said that organisations like Threshold had reconfigured their services to respond to needs. They had enhanced and improved data reporting. But there remained a need for strong IT systems, cyber security systems, data protection to ensure the highest governance and regulatory compliance.
"All of those things need to be managed on a weekly or monthly or yearly basis. So all of those things are at play and they require resources."