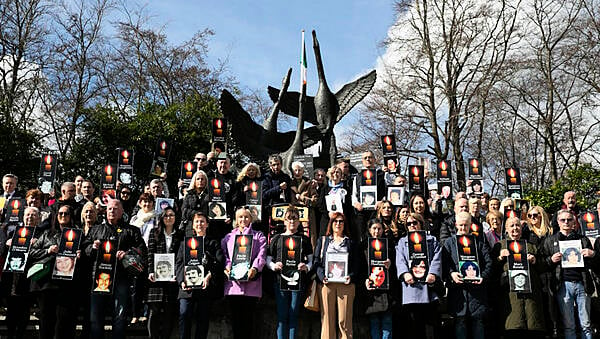 Fiona Magennis
The sister of one of the Stardust victims has told of how her loved one has been "lost in the smoke and devastation" of the fire for too long and how her family want to reclaim her from the darkness and bring her "back into the sunlight where she belongs".
Delivering a pen portrait of Marie Kennedy (17) on the eighth day of the inquest, her sister Michelle described her "godmother and best pal" as someone who was "warm and caring", "lively" and "fiercely protective".
Michelle told the jury at the inquest, which is taking place at the Pillar Room in the Rotunda Hospital, that she had intended to add a section about the night Marie died, describing how her parents had found her in Jervis Street Hospital and how their Mam had recognised her daughter by her feet.
She said she was going to tell how Marie's loss had destroyed their family but said that, in the end, she decided not to.
Michelle said the decades-long fight had taken far too much from the family already, so instead they were focusing on remembering Marie's life, "taking her back" and reclaiming her from the "darkness and despair".
She said the pen portraits have been incredibly difficult for family members to write for many reasons, with decades of "unprocessed grief, shock and anger", as well as unanswered questions and memories.
She told of how Marie had passed away 10 days before Michelle's fifth birthday and how her big sister was her godmother and her best pal.
Her memories of her sister have been "clouded by sadness and the passing of 42 years", she said, adding she and all those who lost loved ones have been cheated out of so much.
She said for some family members, providing memories of Marie for the pen portrait was "just too upsetting".
'Beautiful, warm, caring'
"The good memories can be as painful as the bad. But their silence told me everything. I could feel the weight of it like a noiseless, deafening scream."
She said what she did get from them though, was the image of a kind-hearted and fun-loving person, a "larger than life personality" with a smile to match.
She said the same words came up over and over: "Beautiful, warm, caring, funny and the smile. Everyone mentioned her smile."
Marie was a Christmas baby, born exactly a week before Christmas Day and the family tradition of putting up the Christmas decorations on her birthday started then and continues to this day, Michelle said.
Marie had an enormous love of singing, music and dancing from a very young age and was dancing almost as soon as she could walk.
She started going to Irish dancing lessons when she was about four and won lots of medals, eventually taking part in the St Patrick's Day parade, Irish dancing her way across O'Connell Bridge in the freezing cold and pouring rain.
Michelle told how their grandparents once took Marie on holidays to Butlins and entered her in a singing competition which she won.
"She was forever making up dance routines and teaching them to us younger ones and our friends. One of our cousins specifically remembers her lining us all up to teach us how to sing and dance the hucklebuck," she said.
However, disco music was Marie's big thing, and she loved the Bee Gees, Jackson Five, Leo Sawyer and Abba.
"Her love of music and dancing was the reason she was in the Stardust that night. She wanted to see the dancing competition," Michelle said.
"She was our dancing queen, young and sweet only 17."
Marie also had a love of fashion and worked at tailoring while she went to secretarial college. She adored shoes and would spend her pay on them.
"I remember using her high heels to sit my dolls in, pretending to drive them around in their glamorous shoe cars," Michelle said.
She told how her big sister once turned up to their grandparent's house wearing a pair of men's steel toe-capped shoes. Their granny expressed her dismay, but Marie laughed and told her: "This is the fashion Nana" while their grandad looked over his newspaper and said: "leave her alone Mary, she looks great".
She said Marie "looked glorious in her Aran jumper and silver jewellery with her beautiful black hair and mischievous green eyes". As a result they all wanted their own Aran jumper and their "poor mother was tormented knitting them for us".
Michelle remembered her big sister as "cheeky, fun-loving and mischievous".
"She would hug our Mam from behind and call her Patsy. The two of them would smile at each other and Mam would say: 'what are you looking for'," she said.
As the eldest of six children, Marie always looked out for her siblings.
"She was our best pal, but we knew she wasn't to be trifled with. She was in charge, and we knew it. She was the ultimate big sister."
"The decades long fight for answers has taken far too much from us already. So today we're taking her back and we're remembering her life. We're reclaiming her from the darkness and despair and bringing her back into the sunlight where she belongs," Michelle added.
"She's our sister, daughter, sister-in-law, niece, aunt, great aunt, cousin and friend. She's our Marie."