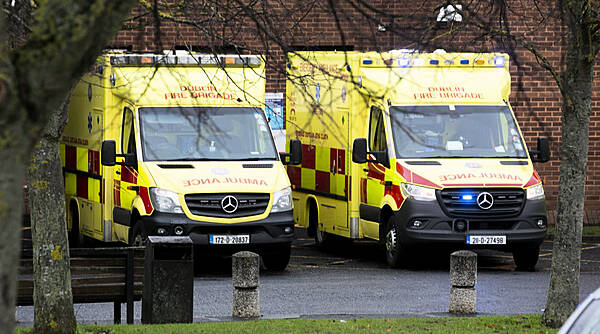 Louise Walsh
SIPTU members in the National Ambulance Service (NAS) have agreed to industrial action in a dispute over the implementation of a series of reforms, including the recognition and pay of paramedics
Members who took part in the ballot, which concluded on Thursday, voted by 95 per cent in favour of the action.
It is not yet known what action will be taken, but possible measures could include an overtime ban, work to rule or a strike.
SIPTU members were informed on Friday by Ted Kenny, Sector Organiser of the Siptu Health Division that "We wish to advise that the count of the ballot papers for industrial action and strike action by our members in NAS (National Ambulance Service) took place this morning (Friday) and our members have voted by 95 per cent in favour of this action."
In recent weeks, SIPTU informed the head of the NAS, Robert Morton of the action unless the reforms "which have been outstanding for some time" were implemented.
The proposals include that all new paramedics will have a degree level eight qualification and that paramedics will be recognised as a profession with graded pay scales.
Mr Kenny said that SIPTU would be serving 21 days notice of the action, the form of which has yet to be decided, to the NAS next week.
Level of frustration
"The result of the ballot was always going to be inevitable, given the high level of frustration of our members," he said
"We will be serving notice on the NAS next week. It will be 21 days notice we will be giving so we will be hopeful that in the intervening period, discussions will take place to resolve the issue
"The Irish Ambulance Representative Council (IARC) which is made up of representatives of SIPTU and UNITE will meet next week to discuss what form of industrial or strike action we will take, and our members will then be informed."
Ahead of the ballot letter to Mr Morton from SIPTU Ambulance Sector organiser Ted Kenny stated: "You will be aware that the business case to provide for the proposed new structure within the National Ambulance Service has been outstanding for some considerable period.
"As per our previous engagements, I have outlined to you the distinct concern of our membership with the time which has passed in progressing the business case through the HSE and now with the DOH.
"It is now SIPTU's intention to ballot our members in the National Ambulance Service for industrial action up to and including strike action
The agreed proposals include new grades for community and specialist paramedics as well as paramedic supervisors and clinical paramedical supervisors. They also include new job descriptions for those grades and reformed management structures.
"Our union will not accept any deviation from the reality that it is management's function to secure the necessary funding to deliver the agreed vision for the service," it adds
A source within the NAS said: "We have co-operated fully, but we are fed up with this plan being pushed down the line.
"We want our profession to be recognised. At the minute, emergency medical technicians are classed as support staff. As Driver Attendances.
"If the HSE don't recognise our profession, then what will the public think of us. So many times, we have called to houses and occupants have said, oh the ambulance driver is here. It is so disrespectful to us, especially as most of us now have a level 8 degree.
"We don't go in for a 12-hour shift any more – it's 14 or 15 hours. We are just exhausted. You don't see many ambulances flashing the blue lights any more. We've got slower and slower.
"There are over 2000 people in the service who work so hard and just want to get the recognition they so richly deserve.
"I thought morale in the service was at an all-time low, but it has dropped even lower."
The HSE released a statement this evening where they said: "The NAS would like to assure the public that every effort will be made to mitigate any risk to them arising from any action.
"We will continue to work to advance the professionalisation agenda within the NAS that also seeks to recognise the important work carried out by NAS staff throughout the past number of years."