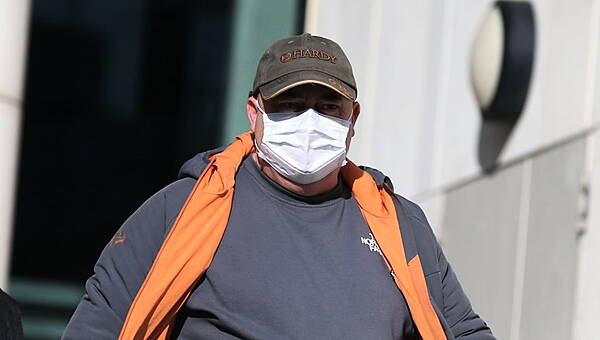 Paul Neilan
A 52-year-old Dublin man who acted as a "conduit" in an "industrial-scale" Kinahan Cartel drugs and ammunition operation will be sentenced at the Special Criminal Court later this month.
Anthony Glynn pleaded guilty at the non-jury court earlier this year to having hundreds of rounds of various ammunition and €1.4 million in drugs for the Kinahans.
Glynn, of Fitzgibbon Court, Dublin 1, had been charged that he "did commit a serious offence for the benefit of a criminal organisation, namely the possession of one or more controlled drugs, to wit cocaine and cannabis, for the purpose of selling or otherwise supplying the said controlled drugs" within the State, on dates between January 25th, 2017, and April 12th, 2017, both dates inclusive.
He also pleaded guilty to committing a serious offence for the benefit of a criminal organisation by possessing ammunition, to wit 199 rounds of .44 Remington Magnum calibre, 76 rounds of .357 Magnum calibre, 38 rounds of .45 ACP calibre and 22 rounds of .22 LR calibre ammunition – 335 rounds in total – in circumstances as to give rise to a reasonable inference that the said ammunition was not required for a lawful purpose on the same dates.
Both offences are contrary to Section 73 of the Criminal Justice Act 2006 as amended by Section 10 of the Criminal Justice (Amendment) Act 2009.
On Monday, Detective Garda Sergeant Tony Kennedy told Dominic McGinn SC, for the State, that the criminal organisation in question was the Kinahan organised crime group.
Det Sgt Kennedy said that on foot of Garda information, a search warrant had been carried out at a business premises at Mount Dillon Business Park in Dublin 5 in March 2017.
Det Sgt Kennedy said crates containing "large quantities" of cannabis, cannabis resin and cocaine were discovered, and a man, Emmet Fogarty, was arrested on site and charged.
Fogarty, of Brookhaven Drive, Blanchardstown, was deemed to be "responsible" for the unit at the business park. Fogarty was 47-years-old when he was jailed for five years after pleading guilty to possession of the drugs and ammunition in November 2018.
Follow-up search
A follow-up search to the lock-up carried out at a residential address in Dublin in April 2017 saw gardaí seize two Blackberry phones on which a number attributed to Glynn's brother, Douglas, was discovered.
At Douglas Glynn's sentence hearing, Det Sgt Jonathan O'Leary said technological breakthroughs in cracking phone encryption allowed gardaí to fully access the contents of the phone in February 2021.
The detective said the technology was able to identify a person saved under the codename 'Oscar' on the phone as Douglas Glynn.
In March, Douglas Glynn (38), last of Fitzgibbon Court, Dublin 1, was sentenced to eight years for conspiracy to commit a serious offence, namely the possession of 335 rounds of ammunition and conspiracy to possess drugs.
In sentencing Douglas Glynn, Mr Justice Tony Hunt said the operation had been on an "industrial scale" and described the accused as a "trusted manager" for the Kinahans over others involved who were "dispensable cannon fodder".
Douglas Glynn is also serving a 6.5-year jail sentence imposed in February 2022 for his involvement in a foiled plot to murder Kinahan cartel target James 'Mago' Gately, during which Glynn placed a tracker on the rival Hutch member's car.
Det Sgt Kennedy told Mr McGinn on Monday that the cannabis discovered at the lock-up was valued at €39,902, while the resin was valued at €10,894 and the cocaine was found to be worth €1,422,694 – totalling €1,473,490.
Det Sgt Kennedy said an analysis of the Blackberry phones had been carried out "as far as possible" in 2017 but a breakthrough in phone-encryption technology saw the phones analysed again in February 2021.
The detective said a series of messages were found to be related to the March 2017 search of the lock-up, including the amount of drugs involved and the use of pallets.
Mr McGinn said the description of one crate found in a message "mirrored exactly" a crate found in the search and another message regarding the amount of drugs involved also matched what gardaí discovered.
Det Sgt Kennedy said the gang used pseudonyms to conceal their identities with Anthony Glynn going by the moniker 'LED' who received the messages from Douglas 'Oscar' Glynn.
Codewords
The detective said slang terms for drugs and ammunition were also used with "seeds" being a code for ammunition, and added that Douglas Glynn's messages also related to the "stock-taking" of the premises.
The three-judge court has previously heard that other codewords were 'slate of pollen' for cannabis resin, 'tools' for firearms and 'candy', which referred to cash.
Det Sgt Kennedy said Anthony Glynn had been co-operative and agreed he was "very easy to deal with", had pleaded guilty and had no relevant previous convictions.
Michael Bowman SC, for Anthony Glynn, said his client's involvement "was that he was positioned as a conduit for information between Douglas Glynn and then this was forwarded to Emmet Fogarty, who was the man on the ground".
"He [Anthony Glynn] was an intermediary communicating messages," Mr Bowman said, adding that he accepted the offending was of "serious nature".
Mr Bowman said his client "never had any serious difficulty with gardaí" and that he was a father of four children, one of whom has health issues.
Mr Bowman said Anthony Glynn was "integral" to his children's lives, was a "family-centric man with a complete employment history" but who lost his job as a porter in the Mater hospital due to the charges before the court.
The barrister said Anthony Glynn had been "reluctant" to point the finger at his brother, who he was "seeking to protect", adding that the defendant's parents were in their 70s and in poor health. Mr Bowman said Anthony Glynn had not come to the attention of gardaí since being charged, had complied with all of his bail conditions and had a number of "impressive" testimonials in his favour.
The barrister said his client did not have sole use of the phone and that the direction of messages had flowed from Douglas Glynn.
Mr Bowman added his client had unusual personal circumstances given his age, previous record and family circumstances.
"Mr Glynn comes before the court in his 50s, which is not the demographic of most people who first appear before this court," Mr Bowman said.
"Against that, though, he ought to have known better, after achieving a certain amount of maturity," Mr Justice Hunt noted.
Mr Hunt said Anthony Glynn had crossed the threshold when it came to a custodial sentence and that the court "has to penalise support of organisations like that".
Mr McGinn told Mr Justice Hunt that the maximum punishment for each of the two offences was 15 years' imprisonment.
Mr Justice Hunt said the court would sentence Anthony Glynn on May 19th.