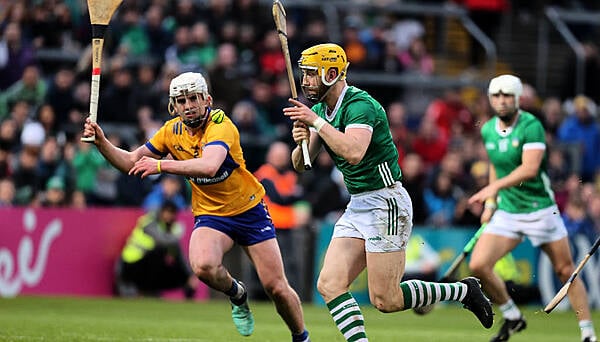 Olivia Kelleher
Updated: 3pm
Tánaiste Micheal Martin has said all GAA matches should be televised on free-to-air channels amid criticism of GAAGO.
The GAAGO site provides coverage of GAA fixtures, originally aimed at international viewers, allowing them to pay to watch the games online.
Following an expansion of its coverage last October after the GAA's broadcasting deal with Sky Sports ended, its has now also become popular for games which are not broadcast on free-to-air channels in Ireland.
Among the recent games which were not televised on free-to-air channels was last weekend's Munster Senior Hurling championship clash between Limerick and Clare, and Saturday's meeting of Cork and Tipperary in the same competition.
Speaking in Cork, Mr Martin said his "personal view" for a "long, long time" has been that fans should not be subjected to extra charges to watch GAA matches online.
"We want more and more people to see hurling being played like it was on Saturday with Cork and Tipp and last week with Clare and Limerick – it's something that should be reviewed."
Remarking that hurling has lost out more than football in terms of free-to-air coverage, Mr Martin added: "We've had two classics now in terms of the Clare-Limerick game last weekend and the Cork-Tipp game on Saturday evening, and it just seems that a significant audience did not get access to those games to see hurling at its best."
The Tánaiste said only showing some games on GAAGO could also be an issue for some older people who may not be able to access the internet.
"If we want to continue to brand hurling as one of the great iconic identifiers of Ireland, one of the great games played at a very high quality, we want more people to see it and I think it's something that should be reviewed for the benefit of hurling."
'Invisible barrier'
Earlier, Age Action, which advocates for older people in Ireland, claimed GAAGO is creating an "invisible barrier" for elderly fans who have no online access or cannot afford the streaming service.
Speaking to Newstalk Breakfast, Age Action's Nat O'Connor said the reality is that many older people are not using the internet.
"It's an invisible barrier that people don't have the technology or the wherewithal to access these games online, and it's not a small issue.
"Our concern would be that it is really important that everybody can take part in GAA. It is part of the fabric of society. For many people they have been loyal followers of the GAA all their lives.
"It is not a small issue. Three in ten older people would not be using the internet at all and another three in ten who would be using the internet but would have basic skills. They would not be up to doing financial transactions online.
"They might not be comfortable in buying services. It adds up to a large number of people. So as a result they are missing out.
"There is a creeping increase in the numbers of things going online. There is a lot of major matches which would have been available that are no longer available but are on GAAGO."
Mr O'Connor said GAAGO has excluded a large portion of the population from watching GAA matches because of its online mechanism.
"We're talking over 600,000 people at the moment, who are effectively digitally excluded because they're not using the internet because they don't have the skills," he said.
Mr O'Connor also stressed the increase in cashless sport venues has also led to more older fans who do not use card payments preferring to watch matches from home.
"Many people will [use GAAGO] – but our concern is lots of people on the state pension can't afford subscription and don't have broadband," he said.
Scheduling
However, former GAA President Liam O'Neill told the show the streaming service actually includes a wider audience rather than excluding fans.
"There are 15 games next Saturday – with all due respect, no channel can show all those," he said.
"GAAGO is a means through which you can watch some games – not all games, but some games will be able to shown next Saturday."
Mr O'Neill added the GAA is probably one of the most inclusive organisations in the world.
"The GAAGO is far from being exclusive. It is inclusive. It was set up at the time we did the Sky deal, and it was for people who lived abroad. It was only accessible to people who lived abroad and the complaint at that time was that it wasn't accessible to people in Ireland.
"Then when the pandemic came, GAAGO was a means by which a huge number of extra games were made available to people who couldn't have got to see them because they couldn't get out."
Mr O'Neill said he is a pensioner himself and understands the age group, describing GAAGO as being in the main a "positive development" which opens up the possibility to GAA fans of watching more matches rather than less.
He argued that any GAA fan will learn how to use GAAGO online if they want to watch a match.
"I am going to Bruce Springsteen tomorrow night. I can't use a paper ticket, I have to have a special download on my phone. I am putting up with that because I want to go to the concert. It's only going one way."