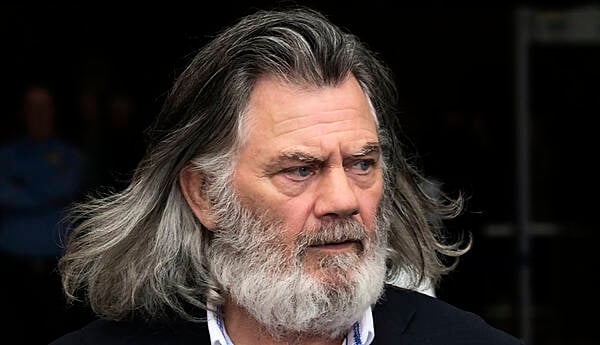 Alison O'Riordan
Gerard "The Monk" Hutch, who was acquitted last month by the Special Criminal Court of the murder of Kinahan cartel member David Byrne at the Regency Hotel, is seeking his legal costs from the State.
The application will be heard on Friday, when two long-time friends of the Hutch family convicted of acting as getaway drivers during the notorious hotel attack in 2016 will be sentenced.
Sean Gillane SC, for the Director of Public Prosecutions (DPP), said on Monday that submissions from the defence regarding Mr Hutch's costs application have been served on the State, that the application will be opposed and it will take no more than an hour on Friday.
Last month following the 52-day trial at the Special Criminal Court, taxi driver Paul Murphy and builder Jason Bonney were found guilty at the Special Criminal Court of acting as getaway drivers.
Defence counsel Bernard Condon SC, for Paul Murphy, submitted to the three-judge court during Monday's sentence hearing that his client ought to be considered to be at the lowest level on the ladder of responsibility. "Many people were involved at all sorts of levels, there was no evidence of any level of organisation whatsoever in relation to Mr Murphy," he said.
Mr Condon added: "The evidence is of a man driving around in his own taxi with his own taxi plates and going into various premises he must have known were covered by CCTV".
Previous convictions
The non-jury court heard on Monday that Murphy has 67 previous convictions which include public order offences, road traffic offences, larceny and criminal damage. Mr Murphy, the court heard, had changed his name by deed poll from Christopher Ryan to Paul Murphy in 1987.
Evidence was given that Bonney has no previous convictions, had never previously been arrested for criminal offences and had not been "on garda radar" prior to this offence.
Ms Justice Tara Burns, presiding in the three-judge, non-jury court, heard pleas by lawyers for the two convicted men and said the court will pass sentence on Friday at 10am.
Delivering judgement at the non-jury court on April 17th, Ms Justice Burns sitting with Judge Sarah Berkeley and Judge Grainne Malone agreed with the State's case that Murphy's silver Toyota Avensis taxi and Bonney's black BMW X5 jeep were part of a convoy of six cars that parked up at St Vincent's GAA club grounds in Marino in north Dublin before the Regency shooting on the afternoon of February 5th, 2016 and had then each transported one of the hit men from St Vincent's GAA car park.
It was the prosecution's case that an integral part of the operation which led to Mr Byrne's death was the means by which the tactical team escaped, which was central to the case of Bonney and Murphy.
Ms Justice Burns said the court was satisfied beyond reasonable doubt of the existence of the Hutch Criminal Organisation and that the defendants Murphy and Bonney knew of its existence when they provided access to their individual cars at St Vincent's GAA club intending to facilitate the commission of a serious offence by the Hutches. She also said that the court was satisfied beyond a reasonable doubt that the Regency attack, during which David Byrne was shot dead, was orchestrated by the Hutch criminal organisation.
Acquittal
In acquitting Mr Hutch, the Special Criminal Court found that it could not rely on the unsupported evidence of the former Sinn Féin councillor and convicted torturer Jonathan Dowdall. It also found that surveillance audio recordings of a conversation between Dowdall and Mr Hutch did not corroborate Dowdall's claim that Mr Hutch had confessed to being one of the hitmen at the Regency Hotel where Mr Byrne was shot dead.
The three-judge, non-jury Special Criminal Court heard that the shooting took place during a boxing weigh-in at the Regency Hotel. A man dressed as a woman and another man wearing a flat cap, who were armed with handguns, stormed the hotel followed by three people dressed in tactical-style garda uniforms carrying assault rifles.
Mr Byrne (33), from Crumlin, was shot dead at the hotel in Whitehall, Dublin 9 after five men raided the building, which was hosting a boxing weigh-in at the time. The victim was shot by two of the tactical assailants and further rounds were delivered to his head and body.
Mr Byrne died after suffering catastrophic injuries from six gunshots fired from a high-velocity weapon to the head, face, stomach, hand and legs.
Last month, Paul Murphy (61), of Cherry Avenue, Swords, Co Dublin and Jason Bonney (52), of Drumnigh Wood, Portmarnock, Dublin 13 were each found guilty of the charge of participating in or contributing to the murder of Mr Byrne by providing access to motor vehicles on February 5th, 2016.
Gerard Hutch (60), of The Paddocks, Clontarf, Dublin 3, had denied the murder of Mr Byrne during a boxing weigh-in at the Regency Hotel on the Swords Road, Whitehall, Dublin 9 on February 5th, 2016.