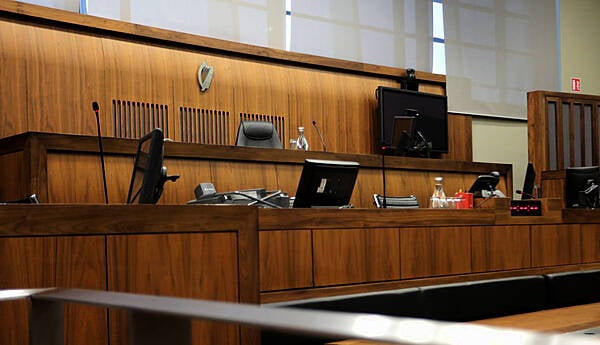 Isabel Hayes
A man has told a family sexual abuse trial that there are "no words in this world" to describe the experience of being allegedly raped by his uncle.
A 66-year-old man and his three sons, aged 38, 40 and 41, are on trial at the Central Criminal Court charged with numerous counts of rape, oral rape, anal rape and sexual assault against four members of their extended family who were children at the time.
The 63-year-old wife of the first defendant is also on trial charged with assaulting her nephew and granddaughter and assisting one of her sons who allegedly anally raped her granddaughter.
The court has heard that the alleged offences occurred between 1999 and 2005 in various locations around the country. The jury has been told that the complainants and the accused are all part of an extended family.
There is a total of 126 counts on the indictment before the court. The five defendants deny all the charges against them.
Evidence
The second complainant in the case gave evidence on Monday. Under questioning from Shane Costelloe SC, prosecuting, the 33-year-old man said that he and two of his brothers were sent to live with his uncle and aunt when he was aged around nine or 10, after their father died and their mother took an overdose.
The man said that his uncle and aunt moved around the country a lot, living in various campsites and on back roads and that it was "quite hard".
"We were all having it tough," he said, adding that they had to beg to get money for food and that if they did something wrong, they were beaten with a "machine stick" which he said was used to clean chimneys.
The man told the court that one night, when he was asleep in bed in a caravan with his two brothers, his uncle called him out to give him a hand with something.
He said that when he emerged from the caravan, his uncle brought him to the back of a nearby van, grabbed him by the neck, pulled down his shorts, held him face down and anally raped him.
"I was screaming and begging him to stop," the man told the court. "I ended up passing out with the pain." He said that when he came to, his uncle threw his shorts to him and left him in the van.
Blood
He said that a couple of hours later, his uncle let him out of the van and told him to go down to the stream to wash himself, which he did.
The man told the court he was bleeding and swollen. He said his shorts were covered in blood.
When asked how he felt afterwards, the man replied: "Horrendous."
He said he told his aunt what had happened afterwards, and she beat him with the machine stick.
The man told the court about another incident, when he said his uncle brought him to an old caravan to look for scrap. He said as soon as he was inside the caravan, his uncle grabbed him, pulled down his jeans and anally raped him again.
"There are no words in this world that can describe it," the man said. "The pain is unnatural, you wouldn't be able to stick it. You can't trust anyone in your life after that."
The man said he was aged around nine and a half or 10 when these two alleged incidents occurred. He said his uncle continued to rape him "two or three times a week" until he ran away.
He told the court he lived with other family members and institutions for a period of time before returning to live with his uncle and aunt when he was aged 15.
He said his uncle also used to orally rape him and the abuse stopped when he "got old", around the age of 16 or 17.
Charges
In relation to this complainant, his 66-year-old uncle is charged with 12 counts of anal rape, 10 counts of oral rape and one count of assault causing harm on dates between 1999 and 2002. His 63-year-old aunt is charged with one count of assaulting him causing harm. The husband and wife have denied the charges.
Under cross-examination from Michael Bowman SC, defending the uncle, the man repeatedly said he couldn't remember various details of who he was living with at different times in his childhood, and said he suffers from "issues with my brain and my head".
He said he couldn't tell if the first alleged rape took place in summer or winter. The court heard the man can't read and is dyslexic.
He agreed that when he disclosed alleged sexual abuse he received while in foster care, he never mentioned the alleged abuse involving his uncle. "There was a lot of fear put there," he said.
He said he told one social worker about the abuse, with the court hearing there was no history of this in the social worker notes.
Mr Bowman put it to the man that the reason there were no notes of any alleged abuse was because his uncle "never did anything to you at any stage at all".
"He did," the man replied.
The trial continues before Ms Justice Mary Ellen Ring and a jury.
If you have been affected by any of the issues raised in this article, you can call the national 24-hour Rape Crisis Helpline at 1800 77 8888, access text service and webchat options at drcc.ie/services/helpline, or visit Rape Crisis Help.