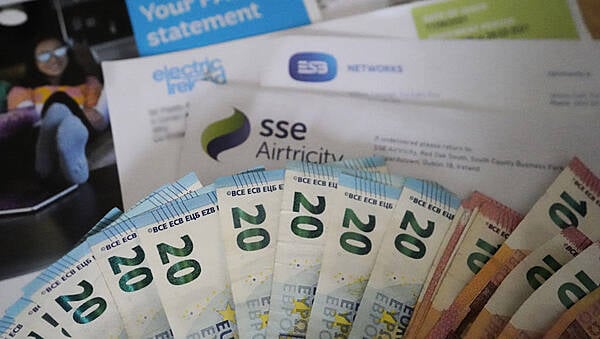 By Gráinne Ní Aodha, PA
The number of domestic gas customers in Ireland who have fallen into arrears has increased from 18 per cent to 23 per cent in 12 months.
This compares to the number of domestic electricity customers in arrears dropping from 13 per cent in the first three months of 2022 to 9 per cent in the first three months of this year.
This amounts to 160,399 gas customers in arrears as of the end of March – almost 25,000 more compared to the same period last year – and 199,790 electricity customers in arrears, which has dropped by over 83,000 people compared to 2022.
The figures come from the Commission for Regulation of Utilities (CRU) who appeared before the Oireachtas Committee on Environment and Climate Action on Tuesday.
The CRU's chair Jim Gannon told TDs and Senators that the CRU "remains very concerned" at high energy prices, and said that wholesale gas prices remain "at over two times the historic norms".
He added: "Due to supplier hedging, the majority of customers were protected from the worst impacts of the volatility and extremely high prices of 2022, when wholesale gas prices peaked at 10 times the historic norms.
"However, the same hedging contracts and practices that protected customers can mean that the pass-through of wholesale price reductions to the retail market are not seen for a period of time."
Mr Gannon also said that high gas prices had a "disproportionate" impact on Irish households and businesses as Ireland relies more heavily on gas-generated power.
In his opening statement, he also said that the number of domestic electricity customers in arrears remains below pre-Ukraine war levels and that the CRU does not expect to see a "marked" rise in disconnections given that suppliers cannot disconnect engaging customers.
The moratorium on disconnections ended on March 31st.
People Before Profit TD Brid Smith said it was a failure of the CRU that there was such a significant number of people in arrears due to their gas bills.
She criticised the convening of the Retail Forum on Wednesday, when Minister of State Neale Richmond is expected to ask for an explanation to reported incidents of price gouging as "having tea".
She said: "As Minister Richmond prepares to have tea with players in the food sector and as he makes it clear there will be no 'draconian' moves by his government to try to control food prices, we see the same 'hands off' attitude form the state's energy regulator.
"As long as they rubbish price controls or any other direct measures, both the government and CRU will be the plaything of companies posting record profits as people struggle."