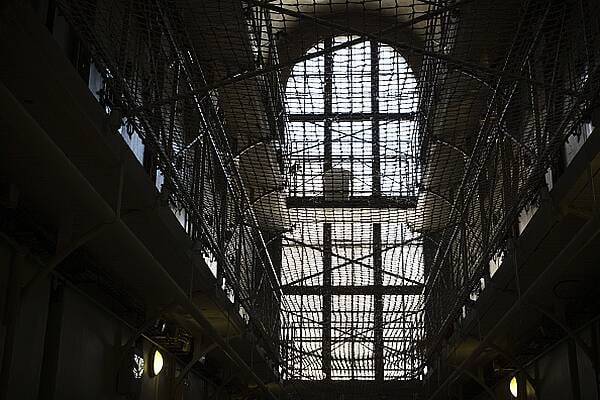 Seán McCárthaigh
Female prisoners are six times more likely to engage in acts of self-harm compared to their male counterparts according to the findings of a new study.
Research into the incidence of self-harm among the Irish prison population has highlighted how the issue affects almost one in five female inmates compared to around one in 30 male prisoners.
The study found incidents of self-harm were recorded among 18.4 per cent of all female prisoners, in contrast to just 3.1 per cent of male prisoners. However, the study found the severity of self-harm and the level of intent were greater for male prisoners than females.
The research also revealed that remand prisoners are twice as likely to engage in self-harm as inmates who have already been sentenced for their crimes.
The study, which is believed to be the first national systematic examination of the incidence and patterns of self-harm among prisoners in the State, analysed data on all self-harm episodes recorded in the 12 adult prisons in the Republic between 2017 and 2019, including the medical severity and suicidal intent of each incident.
It also examined the type of accommodation of affected prisoners, sentence length, stage of sentence, nature of conviction, prison regime and legal status.
Findings
The report, compiled by researchers from the National Suicide Research Foundation and the Irish Prison Service, reviewed a total of 696 episodes of self-harm among 397 prisoners (328 males and 69 females) over the three-year period.
The results, published in the International Journal of Prisoner Health, found the rate of self-harm was higher among female prisoners across all age groups.
The study found self-cutting or scratching was the most frequently method of self-harm for sentenced prisoners, accounting for almost two-thirds of all incidents, followed by hanging which related to 20 per cent of cases.
The results showed females were twice as likely (33 per cent) to engage in hanging than male prisoners (16 per cent).
However, four times as many male inmates who self-harmed by hanging – 81 per cent of such cases – had high levels of intention, compared to 20 per cent of females.
Almost a third of prisoners who self-harmed had recorded more than one incident between 2017 and 2019, with repetitive episodes more pronounced among females.
The study found almost one third of all self-harm episodes required no medical treatment, while just over half of all incidents required minimal medical interventions such as minor dressings.
However, 13 per cent of cases required hospital outpatient treatment or examination in a hospital's emergency department, while 2 per cent required admission to hospital or treatment in an intensive care unit.
Environment
Contributory factors associated with self-harm among prisoners were mainly related to mental health issues, but also linked to a prisoner's environment and relationships.
The report said they were predominantly related to poor coping skills, substance misuse and difficulties managing emotions.
Based on accommodation type, the highest incidence of self-harm was found among prisoners housed in a single cell, accounting for three-quarters of all cases.
The study noted that international suicide prevention policies regularly highlight prisoners as a priority group with vulnerability to an increased risk of suicidal behaviour.
It also pointed out there is some consistent evidence that white ethnic origin, previous self-harm and mental disorders are risk factors for self-harm in prisons.
Commenting on the study, one of the report's authors, Niall McTernan, said the findings were generally in line with international research.
Mr McTernan said the overall rate of self-harm among the prison population (3.7 per cent) indicated the overall rate had remained stable over the past two decades in Irish prisons and was approximately a third lower than the rate in England and Wales.
He said the various findings showed there was "a need to ensure access to timely and suitable mental health services including both appropriate referral and provision of evidence-based mental health interventions".
"The wide range of contributory factors highlights the need for an all-inclusive, prison-wide approach towards preventing self-harm in Irish prisons," Mr McTernan said.
---
If you have been affected by any of the issues raised in this article, you can freephone the Samaritans 24 hours a day for confidential support at 116 123 or email [email protected].
Alternatively, the contact information for a range of mental health supports is available at mentalhealthireland.ie/get-support.
In the case of an emergency, or if you or someone you know is at risk of suicide or self-harm, dial 999/112.