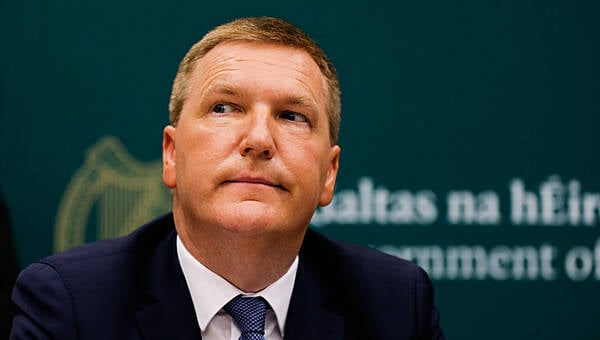 Muireann Duffy
Minister for Finance Michael McGrath has brought a proposal to Cabinet on establishing a State Investment Fund to help cover the cost of major future expenditures.
The plan follows record corporation tax receipts last year, which represented 27.5 per cent (€22.6 billion) of Revenue's total takings for 2022.
In 2023, the Department of Finance expects this figure to rise even higher to €24.3 billion, half of which will be "windfall in nature and cannot be relied upon in the future," Mr McGrath said in April.
The plan would see corporation tax receipts invested in the hope the fund's value will increase over time.
The money could potentially be used to fund State pensions in the future, covering the shortfalls which will be caused by the country's ageing population.
The State's over-reliance on corporation tax receipts has been of concern to officials due to the tax's uncertain nature. Corporation tax, which is charged on the profits of companies registered in the State, is considered volatile, particularly given that such a large proportion of the receipts come from a small number of multinational companies, such as Apple, Microsoft and Google.
Mr McGrath previously warned that the State must "avoid the mistake of building up permanent expenditure and taxation commitments on the back of receipts that could prove to be temporary", reiterating that money raised though corporation tax would not be used to fund capital projects.
A similar scheme was undertaken in Norway in 1990, when the Norwegian government chose to invest surplus revenue from the country's oil and gas industry. The fund is now worth over 14.6 trillion Norwegian Krones (€1.2 trillion).
As is the case with Norway's fund, it is likely the proposed Irish fund would be limited in the types of investments it could make, for example based on ethical grounds, while the use of the funds generated would likely be limited also.
Criticism
The plan has been criticised by TDs from opposition parties, who have said the bumper tax receipts should be used to meet the immediate needs of the State, such as increasing the housing stock or expanding capacity in the health system.
People Before Profit TD Richard Boyd Barrett argued the Government should invest the money in emergency accommodation and affordable housing.
"The idea that the Government would consider putting billions of euro into a piggy bank when there are children who have nowhere to sleep, who are sleeping in cars, are being sent to hostels mile away from where they go to school, where they're being traumatised by the fact that they and their families are being made homeless, it just makes no sense."
However, Mr McGrath is adamant that investing the money is they best approach in the long-term, claiming it is a "once-in-a-generation opportunity to make the nation's finances safer".