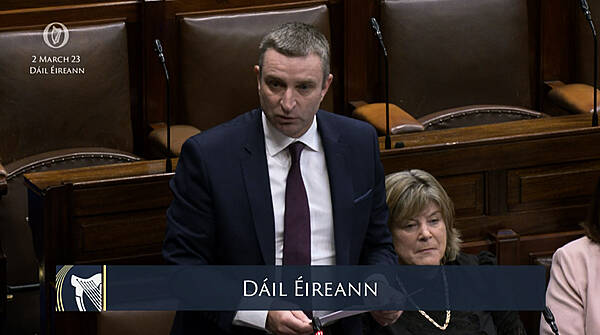 By Cillian Sherlock, PA
Minister of State for Skills and Further Education Niall Collins has acknowledged he knew his wife had expressed interest in purchasing a property that was proposed for sale at a meeting of an area committee he attended in 2007.
Mr Collins has previously delivered a "personal explanation" in the Dáil about the matter in which he said his actions were legally correct and the sale of the property was done in full transparency.
However, that Dáil session did not allow for questions from other TDs – a move criticised by the opposition.
Responding to questions from journalists outside Government Buildings on Tuesday, Mr Collins said he was "absolutely" aware that his wife had expressed an interest in the property.
Asked if this represented a material interest in the matter, and therefore he should not have attended, Mr Collins said that was his judgment at the time.
He said he had been "very clear" in his Dail statement.
He added: "I laid out all the facts in relation to it. I didn't break the law.
"That was my judgment back then and is still my judgment today."
Mr Collins said there had been a number of expressions in the property.
Asked if he now considered it to be material to the meeting, Mr Collins said: "Well, what I was – in the Dail – and my position is that you know, with the benefit of hindsight and given the perception that has now arisen with some that it would have been better had I recused myself."
Asked about redacted parts of published documents which suggested there was another buyer with his wife, Mr Collins said he was not involved in any stage.
He added: "I want to be very clear in relation to that. I was never purchasing property.
"My wife was purchasing it with another person who subsequently changed their mind so she proceeded on her own."
Asked about whether the opposition had a right to ask questions on the matter, Mr Collins said ministers were accountable to the Dail for their ministerial work.
"I don't think any member of Dáil Éireann has to be accountable for their personal life or certainly events before they became members of the Dáil," he added.