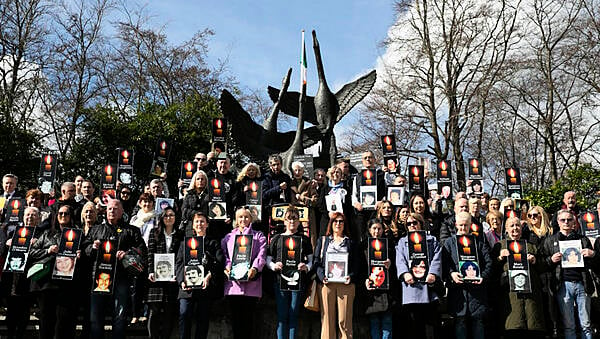 Ryan Dunne
The grief of losing a loved one in the Stardust fire was "unbearable", while being told what that person's life was worth and how to avoid getting involved in a legal system that excluded most working class people added "insult to injury", a brother of one of the victims has told the Coroner's Court.
John Lewis, whose sister Paula was one of 48 people killed in the blaze that swept through the Stardust nightclub in the early hours of February 14th, 1981, delivered a pen portrait of her on Wednesday before the inquest in the Dublin's Coroner's Court, in which he said their family would never have closure even four decades after her death.
"To say that the death of Paula was devastating is an understatement. The grief that was visited on our family was horrendous," John told the jury in the Pillar Room of the Rotunda Hospital.
"Paula went for a night out and never came home. We were left watching my mum and dad wondering if she was crying for them in her final moments."
John described Paula as "a good girl, a kind girl," one who would hand over her wages if their mother was stuck.
She loved music, such as ABBA, The Bay City Rollers, and Donny Osmond, and she loved reading Mills & Boon paperbacks, often going through one in an evening.
John said that on weekday evenings, she would be in the kitchen with her friends, most likely talking about boys and their upcoming holiday to Malaga.
"Her friend, Sandra Lawless, was in the Stardust that night and also perished. The only hope we have is that they were a comfort to each other when the end came," John said,
Will have never had nor never will have closure
"The wait to identify Paula's body, the funeral, the crying, the grief, was unbearable, but it had to be lived through. Then, to add insult to injury, for so-called experts to tell us what our Paula was worth, and what we should do to avoid getting involved in a legal system that most of us would not have had access to anyway because we were working class people."
He said that Paula's loss is still felt at every family event, and to try to explain as the family members get older how much they lost is impossible.
"Will have never had nor never will have closure, that's just a fancy word, but we may still have justice. All of her family miss her every day. She never got the chance to live her life and that is so sad," John concluded.
The inquest also heard a pen portrait of Donna Mahon, which was presented by her sister, Theresa Fitzpatrick. Theresa described Donna as a lovely daughter and sister, as well as an aunt and godmother who idolised her two nieces.
"Although she was only 17, she loved her life and role in the shop where she worked and loved all the people that came in; she was more of a friend to the people. Donna was loved throughout the whole community," Theresa said.
"At 17, she had her whole life ahead of her – or so we thought. She was approximately 10 weeks shy of her 18th birthday and had made plans with her friends to go to Santa Ponsa for her 18th birthday.
"She loved Santa Ponsa, having previously been there with our mother and father the year before."
Theresa said that on February 13th, 1981, she was teaching Donna how to pay dominos, while their dad watched television and their mam was at work in Cadburys.
After this, she heard laughter from the back garden, where their younger brother Michael was chasing Donna around and messing with her. That night, Donna was going out with her friends, and then she was meeting her sister Bernie at the Stardust.
"From what we have been told, Donna was no length in the Stardust when the fire broke out. Our sister was carried out unconscious in a critical condition.
"While Bernie lay in hospital, our beloved sister Donna died and was buried unknown to her. Donna's family and friends were all traumatised," Theresa said,
She added it took until February 16th for Donna to be identified via a bracelet she was wearing, which Theresa had given her.
"We, her family, will never get to see her getting married or have the babies that she dreamt about having, because all she ever did was play with her dolls when she was younger and play with the kids when they were born.
"We will never get to see her have her 18th birthday in Santa Ponsa or look after her nieces and godchildren. Our whole world was turned upside down and our lives were torn apart."
Theresa said that not only was Donna a great daughter, a loving sister and aunt, but she was also the best friend a person could ever wish for. She was known as the apple of her father's eye, and when she died, the family lost a major part of their mother and father.
"Now, we want closure. The wait for a proper inquest has gone on too long for 42 years, we are all so tired. 48 men and women's families need answers, please give us the closure we need and deserve, and allow our loved ones to finally be able to rest in peace.
"We love you dearly, Donna," Theresa concluded.