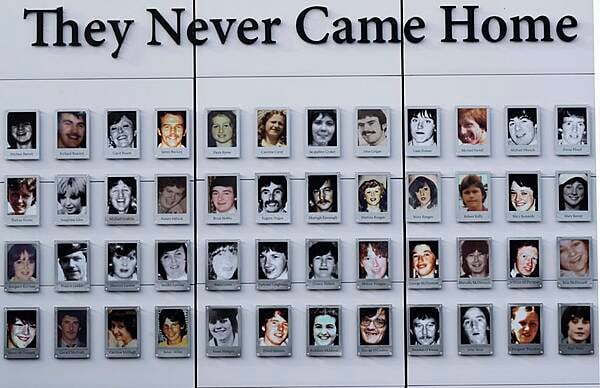 Ryan Dunne
The brother of one of seven victims of the Stardust fire who remained unidentified for over 25 years has spoken of how "surreal" it was to finally bury him in 2007, as by that point the remaining siblings were in their 40s, but their brother was "forever 17".
The jury at the Dublin Coroner's Court inquest into the Stardust fire heard a pen portrait of Paul Wade, which was written by his brother Tony Wade and read out by Tony's son Emmet.
Tony was with Paul in the Stardust when the fire broke out in the early hours of February 14, 1981, claiming the lives of 48 people. The brothers were on a double date with two girls from Derry, and Paul had just started going out with Susan Morgan (19), another victim of the fire.
"When the fire started, or at least when I became aware of it, there was a slow set on, and I was dancing on the floor. That's probably the reason I got out because we were near the exit doors," said Tony.
He said that as Paul had perfect teeth and no tattoos, he ended up being one of seven unidentified victims.
"From the time of the Stardust, we spent every second day going to funerals. If you didn't know all of them, you knew a good few. Not being allowed to have a headstone for seven years upset my mother big time. We had to wait until he was classified as deceased," he said.
Forever 17
Tony explained that Paul was finally identified in 2007, allowing the family to have a proper funeral for him.
"We were all out at the graveyard when he was reinterred. It was a bit surreal as we were standing there all in our 40s, but he is forever 17. Our mother and father were dead by that stage," he said.
"It had an awful effect on our parents. My mother was a very religious woman who would go to mass every day, but she just went completely downhill after Paul died, it hit her so hard."
He said that his mother lost the will to put up any fight against the cancer she was afflicted with, and she stopped going to mass as she lost her faith.
"It's very wrong when a child dies before the parent. My dad was gutted as well, he tried to get answers. He went to his grave cursing what happened," Tony said.
"We tried not to let it take over our lives. We were all late teens or early twenties and when you would go into the pub, people were crying all the time. Half the time you'd end up going into the city centre to get away from it all. After Paul died, I cried once in front of one of my mates. We didn't have counsellors, you just got on with it, especially boys. Therapists were for Americans on TV," he said.
"You have to try to live on. Some people lost their own lives that night because of their loved ones being killed in the Stardust and it has consumed them. I don't know if we made a conscious effort to avoid that or not."
Tony concluded by saying: "My family and I loved Paul, and we really miss him."
The jury also heard a pen portrait of Eamonn Loughman (18), that gathered together the memories of several family members including siblings and cousins, read out by Eamonn's cousin Carol.
Eamon's brother Eoin said he had huge admiration for Eamonn, whom he described as "a loving, caring son and brother". He said Eamonn's death had a devastating effect on their family, and his mother suffered badly.
His sister Anne, who was only three when Eamonn died, said she remembered him always looking after her and playing with her.
"I never got to grow up with the love for my big brother. Most of my memories are from the Stardust and the aftermath of the fire," she said.
Eamonn's brother Andrew, who was seven at the time, said his memories of Eamonn are few but vivid.
"To me, he was the older, three-piece suit-wearing, working, driving man. He was an adult, sophisticated. He looked after me and played with me. He was a cool dude and a smart dressed man in my eyes. It was only later in life that I realised he was just a kid with the rest of his life ahead of him," Andrew said.
He added "the wails of despair and anguish" from his mother still haunt him to this day.
"My mother's heart was broken. Eamonn was not identified at the time, she never really got closure. She hung on to the belief that he could be alive, she believed for years that he banged his head and lost his memory and was out and about lost somewhere. She believed he was going to turn up one day. Better to think that than the real reason he wasn't there," he said.