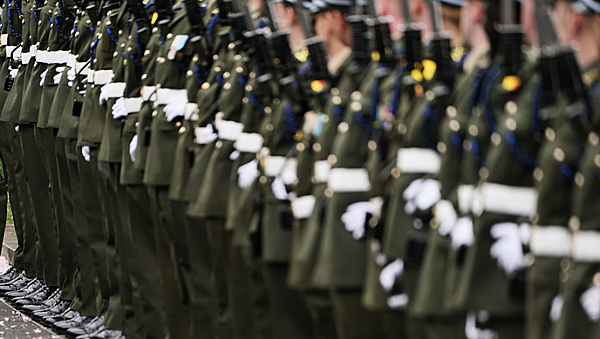 Tom Tuite
A member of the Defence Forces accused of attacking his girlfriend at Cathal Brugha Barracks in Dublin has been released on bail, but has been warned not to contact his partner.
Darragh Baldrick (23), based at the barracks in Rathmines, was arrested on Tuesday.
He was taken to the local Garda station to be charged and was held pending his appearance before Judge Brendan O'Reilly at Dublin District Court on Wednesday.
He is accused of assault causing harm contrary to section three of the Non-Fatal Offences Against the Person Act.
Garda Brendan O'Callaghan told Judge O'Reilly the accused was arrested at the barracks on Tuesday morning. He said Mr Baldrick, yet to indicate a plea, was handed a true copy of the charge and "made no reply after caution".
There was no objection to bail with conditions. Solicitor Evan Moore said the terms had been already canvassed with his client, "and there is agreement".
The defence solicitor confirmed his client was a member of the Defence Forces, the alleged victim was his partner, and they did not have children.
The judge imposed the terms read out by Garda O'Callaghan and told Mr Baldrick to stay away from the woman's home and have no direct or indirect contact with her, including by social media.
Garda O'Callaghan said directions from the Director of Public Prosecutions (DPP) need to be obtained, and he sought an eight-week adjournment.
The solicitor consented, adding: "I have no issue with that". He also confirmed his client had no trips abroad planned.
Judge O'Callaghan granted legal aid and remanded Mr Baldrick on bail in his bond of €100 to appear again on July 5th for the DPP's directions to be outlined.
The defence asked the judge to consider imposing reporting restrictions in the matter because the alleged injured party was Mr Baldrick's partner, and to save her from being identified. However, he added: "I am in the court's hands."
Refusing the application, the judge noted the nature of the charge but remarked: "That would be stretching it".
The solicitor said the restrictions were sought out of sensitivity. However, Garda Sergeant Derek Spain told the judge he did not see any basis for imposing the restrictions, and the judge denied the request.