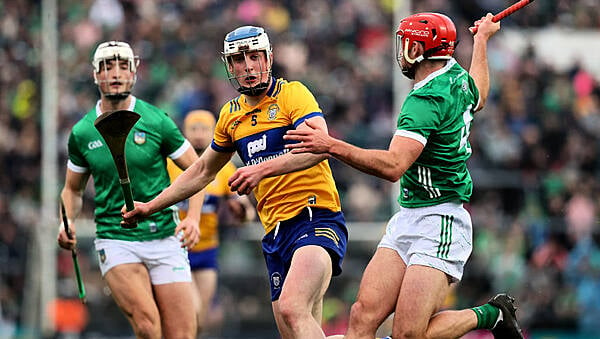 Michael Bolton
As another weekend passed with one of the biggest games shown exclusively on streaming service GAAGO, calls are growing for games to be shown on free-to-air television.
After Clare's famous win over Limerick was shown on GAAGO, Cork's thrilling draw against Tipperary was only shown on the streaming service.
Two of the most exciting games in the hurling championship shown on the pay-per-view streaming service meant a huge amount of GAA fans missed out on both games. Former Cork hurler Donal Óg Cusack has accused the GAA of failing to promote the game of hurling by restricting some of the Munster championship to the streaming service.
Last October, Sky Sports announced their broadcasting partnership with the GAA would be coming to an end this season. As a result, RTÉ retained their 31 live championship games, with GAAGO, a joint venture between the GAA and RTÉ, given exclusive rights to 38 games.
This included 22 football championship games, nine from the hurling championship and seven Tailteann Cup games. This weekend, another high-profile game from the Munster championship will be shown on GAAGO, as Waterford host Clare on Saturday evening.
However, in a statement made by Virgin Media, they revealed they were not contacted by the GAA when the deal with Sky Sports ended,
In their statement, the broadcaster said: "RTÉ is a 50% shareholder in GAAGO, this has never been clarified in any editorial discussion about GAAGO and the decision not to show key games on Free to Air television.
"When Sky Television decided not to renew its GAA rights, the GAA did not approach other broadcasters to ascertain whether they would be interested in broadcasting these games but arbitrarily decided to put them behind a paywall.
"The question must be asked, did RTE pay anything for these rights or did they just agree to keep them behind a paywall to drive incremental revenues for both partners in GAAGO, i.e. RTÉ and the GAA
"Given the multi-million increases in State funding to RTÉ over recent years, RTÉ now has more Sports rights than it can show on its channels, with licence payers now being forced to further subsidise RTÉ by paying for GAA Sports content through its joint-venture with the GAA."
Prior to this deal, GAAGO was originally aimed at international coverage for fans outside of Ireland. To purchase a one-off game, it costs €12, with a three for two bundle at €24, and a season pass costing €79.
On May 20th, the start of the All-Ireland football series will be shown on GAAGO, as Kerry host Mayo in Killarney, and Galway face Tyrone in Salthill.
The amount of games on the streaming services have led to calls for consideration of elderly fans, with charities claiming life-long members of the sport are being excluded.
Tánaiste Micheál Martin has previously said all GAA games should be shown on free-to-air television, and GAAGO's pay-per-view coverage should be reviewed.
Fine Gael TD, and former Mayo footballer Alan Dillon has also called for games to be shown on free-to-air television, claiming GAAGO is an invisible barrier to elderly people.
"Over the last two weekends, two Munster hurling matches, both high quality games, were broadcast live only on GAAGO. People were forced to pay for it or miss out.
"This is extremely unfair and goes against the ethos of the GAA as an inclusive, volunteer-led and community-based organisation.
"What was supposed to be a means of connecting the Irish diaspora with their local teams is fast becoming an exclusive and expensive platform which disproportionately impacts older viewers.
"Over the last few days, we have heard from Age Action about how GAAGO is acting as an invisible barrier to older people accessing the matches they have enjoyed for years.
"When games are behind a paywall – they not only exclude people financially, they exclude people technologically.
"We are only in the first year of the five-year deal which is due to last until 2027, and I believe it needs to be revisited at the next GAA congress and scrapped."