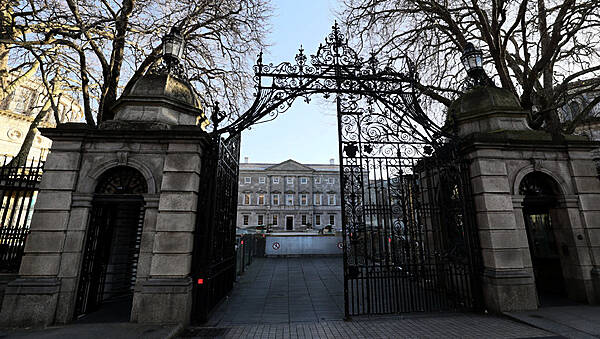 Ken Foxe
Leinster House was hit with a bill for a staggering €334,000 for electricity in December, a 216 per cent increase on the previous year, despite cutting energy usage.
In internal emails, a staff member wrote of getting "a bit of a shock" after seeing the bills at the end of the year.
Another said that while they had been expecting a "significant step change" in bills, the actual increase "seems very significant".
Records released by the Oireachtas show the bill for the final month of last year more than trebled from €105,945 in December 2021 to €334,919 in December 2022.
However, gas bills remained more stable as Leinster House relied more on a wood pellet heating system to keep Oireachtas members warm.
While €33,223 was spent on wood pellets between November and December 2021, that expenditue increased to €99,000 during November and December 2022.
Leinster House was first warned last January that electricity costs were likely to rise by in the region of 41 per cent if and when a new power contract was signed.
However, by June, the Office of the Government Procurement (OGP) was telling them they could now expect a 160% increase in electricity prices.
The outlook was even worse in September when the Office of Government Procurement (OGP) warned of the potential for a 378 per cent hike in electricity prices and 457 per cent for gas.
Contracts
A tender competition to supply electricity to Leinster House – and for other public sector bodies – from May 2022 was cancelled due to a lack of responses, while another in September also failed after receiving not a single bid.
As a result, the Oireachtas building were switched to market rates, which were "significantly higher" than what had been previously paid.
An internal email said: "Our year-on-year energy cost increases are very large, but this was flagged by OGP several times last year."
The Oireachtas was also warned the energy market would "remain volatile" especially while there was no contract in place for supply.
An email said: "[Energy prices are] likely to change significantly on a daily, and sometimes even on an hourly basis. Geo‐political considerations are playing a large part in these changes."
In another message, a senior official wrote: "Like everyone else, I was certainly prepared for significant step change increases across the invoices sent in by our energy suppliers.
"However, even by these standards the current payment request seems very significant."
There was one small silver lining however, with energy usage in Leinster House dropping in four successive months from September to December.
In November, the amount of electricity used was down by more than 5 per cent on the previous year, though the decrease in other months was much more modest.
Officials at Leinster House said they had introduced a range of measures to curb energy usage including changing of external lighting protocols and a reduction in the daily heating period.
They also took part in a 'Reduce Your Use' campaign last winter and issued energy awareness and notices to staff and members about reducing their power usage.
'Out of hours audits' on energy use were also taking place in an attempt to identify and address any unnecessary use of electricity.