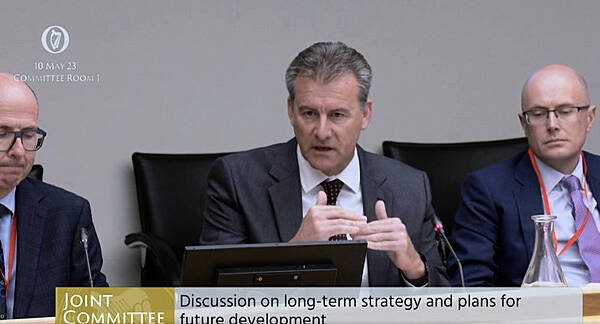 By Gráinne Ní Aodha, PA
The chief executive of Dublin Port has said that an increase in transporting freight by rail could result in higher emissions than by heavy goods vehicles, a committee has heard.
Barry O'Connell said it is already experiencing "pinch points" in its capacity and defended expansion plans for the next 17 years.
It comes after Transport Minister Eamon Ryan raised concerns with Dublin Port Company's 3FM expansion project, the final phase of the port's plan to double its capacity by 2040.
The Green Party leader wrote to the port with "significant" concerns that the final phase would go against the State's aims for climate action and nature, housing, sustainable transport and the circular economy – in particular raising concerns about the underuse of rail to transport freight.
Mr Ryan said he was "troubled" that the plan remains reliant on "unsustainable" transport and logistic systems, particularly with the reliance on increasing road haulage in and out of Dublin City without using rail freight.
Barry O'Connell told the Oireachtas Transport Committee that securing planning permission for the third phase of the plan was "vital" to address capacity, which he described as the single greatest challenge the port had.
Mr O'Connell said that the issue of rail freight was one of demand rather than access, and said that 1% of its total volume in the port was transported by rail in 2022.
Green Party TD Steven Matthews put it to Mr O'Connell that rail freight produces 76% less emissions per tonne, per kilometre than road freight, and asked why this is not developing under the port's plan.
Mr O'Connell suggested in response that moving freight by rail could result in higher emissions because HGVs are still needed to offload cargo, but said a business case is being put together on the issue.
"If you look at the route to market, including rail freight, versus what we have today, then the chances are it could be higher because you've got extra movements and you've got double or treble handling," Mr O'Connell said.
"You still need to put it on a HGV to bring it back."
When asked by Mr Matthews how many more HGVs would be needed to meet with the projected doubling of volume by 2040, Mr O'Connell said it was around a 75% increase on the current number of 10,000 trucks per day.
Mr O'Connell said that HGVs make up 7% of congestion on the M50, and that hauliers look to travel at times when the roads are at their least busy.
Mr O'Connell also said the port is currently experiencing "pinch points" and said that it has had to turn businesses away due to low capacity of load-on load-off services.
"The reason why roll-on roll-off capacity is under pressure is because… of lands allocated to Brexit, which was done with the right intention at the time from everybody concerned because nobody knew quite what was going to happen or the extent that they thought would be (needed).
"Right now, utilisation is at an extremely low point," he said, as he called on State agencies to carry out a review on whether something can be reallocated or "rightsized" in light of current Brexit arrangements.
Mr O'Connell said that Dublin Port can deliver port capacity provided they can deliver three projects already flagged in its 2040 master document, provided the final phase is delivered.
Dublin port's 3FM project includes a plan to build Ireland's largest container terminal in front of the ESB's power station in Poolbeg, and a new 190m bridge with a lifting section over the River Liffey.
The first phase of the project involved deepening the port's berths and strengthening its quay walls to allow for bigger ships from Europe, which the committee heard was "fortuitous" in the wake of Brexit; and the second phase involved creating additional capacity on the north and south side of the port, work on which has just begun.
He said that the reduction of the lands available would "at best reduce capacity and bring forward the date" by which the port runs out of capacity, and "at worst could underline the financial viability" of one of its three port plans, "significantly reducing potential capacity and the associated benefits".
"Of note, like other ports, Dublin port is a self-financing commercial semi-state and like other ports does not rely on Exchequer funding and so the numbers have to work relative to our investment in infrastructure," he said.
He also said that after 2040, additional port capacity will be needed at the national level, "most likely" requiring another facility on the east coast.
Eoin McGettigan, chief executive of the Port of Cork, said that its aim is to achieve net-zero and to move from outside the centre of Cork city to the lower harbour area.