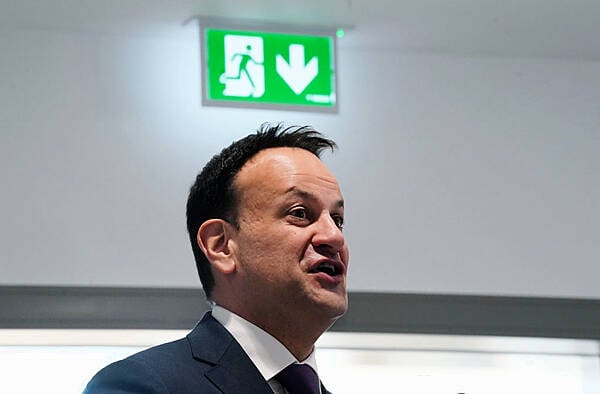 By Cillian Sherlock, PA
Taoiseach Leo Varadkar has said he has not ruled out price controls in the food retail sector but added that advice from the State's consumer protection watchdog cautioned strongly against the introduction of such measures.
Mr Varadkar said: "For example, in Spain proposals to do so were abandoned because of the impact that would have on smaller retailers and retailers in rural areas in particular."
He said there was a lack of evidence it would help consumers and there was an unintended consequence that uncontrolled prices would go up even more.
During Leaders' Questions, opposition parties called on Government to act on food inflation which the Social Democrats said is "driving so many people to the brink".
Sinn Féin leader Mary Lou McDonald said shoppers are finding "eye-watering sums that they can't afford".
"People's pay packets can't stretch any further," she said.
Ms McDonald told Mr Varadkar that the industry needs to be held account.
"We need genuine enforcement.
"We need a holding of the industry to account.
"Cosy chats, vague promises are not enough."
She added: "We can't have another case of you talking the talk, but failing to follow through where it really counts."
Taoiseach Leo Varadkar said Government is under "no illusions" about high inflation.
He said petrol and diesel prices are coming down and he expects electricity and gas to come down in the coming months.
"As is often the case, energy inflation feeds into the cost of food, the cost of production, the cost of doing business, and as a result of that, families are seeing a big increase in their grocery bills, and the cost of the weekly shop."
He said Government was acting by taxing profits, and engaging with the Competition and Consumer Protection Commission (CCPC).
Mr Varadkar also said Minister for State Neale Richmond was meeting with a forum of retailers to send a "clear message" that Government expects them to reduce prices following the reduction of input costs.
Ms McDonald said a message to the sector to bring costs down was welcome but not enough.
"The message must be that if the sector does not act that government will."
She said there needed to be measures for enforcement.
Social Democrats leader Holly Cairns said "the extortionate price of energy and food is driving so many people to the brink" and that real wages were down.
"The real median weekly wage has fallen by nearly 100 euro, that's more than 5,000 a year."
Ms Cairns added: "Families are struggling to pay energy costs that have doubled and food prices that are now in the stratosphere.
"Increases in energy and food prices are costing families, at least an additional 3,200 annually."
Ms Cairns said there was a suspicion that supermarket chains are using Irish consumers as "cash cows" and highlighting increased profits from one chain in Ireland compared to the UK.
She questioned whether other retailers are hiding enormous profit margins and said there was a "toothless regulator and an apathetic Government".
Mr Varadkar said he did not see any reason why retailers profit margins should be greater here than other jurisdictions.
The Taoiseach added that the fall in real wage growth last year was "an exception".
"This year, we expect to see real wage growth again, inflation averaging at around five per cent. Minimum wage is going up by 7.8 per cent, wages going up as well on average by more than five per cent."
He said the number of people in arrears on electricity bills is "actually at its lowest in very many years".
Ms Cairns said Mr Richmond is going to "wag his finger" at retailers, but it was not clear there would be repercussions.
Mr Varadkar said it was a "tired narrative" to say Government was not taking action.
People-Before-Profit TD Paul Murphy said workers had been suffering for more than a year and that the increased money families were spending on fuel and food was going to corporations.
"What we're experiencing, what we have been experiencing is a profit-price spiral.
"It is not inflation that we're seeing, it's greedflation."
He said profiteering was the main factor.
Mr Murphy asked Mr Varadkar what would happen if retailers did not reduce prices.
"Nothing," he suggested, adding that Government had appeared to rule out price controls.
Mr Varadkar said he had been misquoted and misrepresented and said he did not rule out price controls.
"Yes, there is profiteering by some companies, and that is absolutely part of this.
"But it is one factor, not the sole factor."
On price controls, he said there was a risk of products becoming less available.
"We know from socialist governments in the Eastern Europe, in Russia, the Soviet Union, the consequences there. Shortages, rationing, a black market. Not good things."