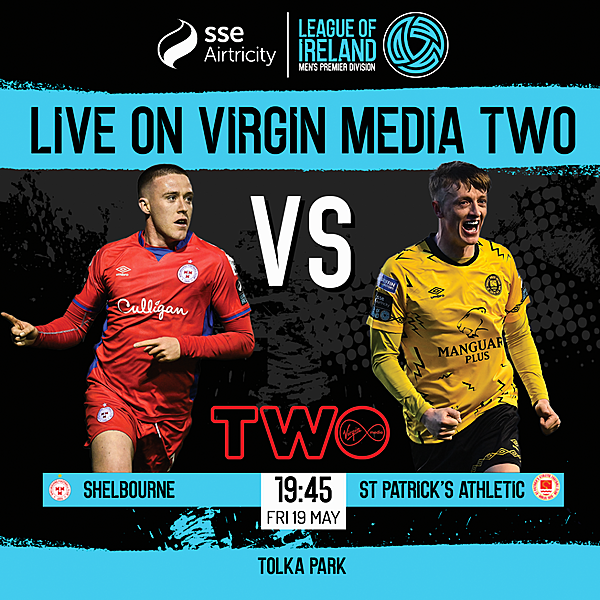 Michael Bolton
Virgin Media has announced live coverage of a further five Airtricity League of Ireland games in April, this season.
Shamrock Rovers win over Bohemians in April was the first League of Ireland game shown live on Virgin Media, and it has led to further big games scheduled for the broadcaster.
On May 19th, the Dublin derby between St Patrick's Athletic and Shelbourne will be shown live on Virgin Media Two, with kick-off at 7.45pm.
On June 5th, St Patrick's Athletic will host Derry City at Richmond Park, which kicks off at 6.45pm. Three further games are set to be announced at a later date.
Football Association of Ireland chief executive Jonathan Hill said: "We're really pleased to announce the confirmation of a further five games to be broadcast on Virgin Media Television for the 2023 SSE Airtricity Men's Premier Division campaign."
He added the move "is a reflection of growing interest in the League of Ireland overall and an important dynamic as we look to the structure of future broadcast deals, especially in relation to a strong base of free-to-air exposure."
"Both sides agreed that the original one match experiment was a great success, a feeling echoed by our title sponsors SSE Airtricity whose wider support remains key as well.
"We will be looking at all broadcast models moving forward, but one thing is clear in that to attract more interest into our broadcast product we will continue to need to invest both into the on-field look and feel, but also the modern broadcast facilities we will need to have in place moving forward to maximise broadcast interest which will in turn generate the income to drive our ambition for League football in Ireland to become an industry in its own right and for our stadia to be modern, welcoming homes for our existing and many new fans."