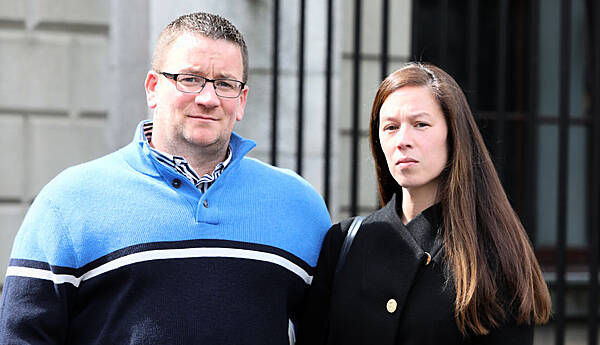 High Court reporters
A boy who ended up with brain damage after a skull haemorrhage allegedly went undiagnosed after his delivery at The Coombe Hospital in Dublin has settled a High Court action with a €6 million interim payout.
Jack Clavin had to have an emergency craniotomy nine days after his birth when his parents brought him to another hospital because he was unwell and an emergency CT scan found a subgaleal haemorrhage, and he had suffered a stroke, the court heard.
In a letter read to the court, The Coombe Hospital apologised to Jack's parents, Nicolina and Dermot Clavin from Co Meath. Professor Michael O'Connell, on behalf of the hospital, offered "sincere and unreserved apologies" for failings in care that caused injury to Jack.
The letter added: "We understand and sincerely regret that these failings have led to lifelong consequences for Jack and his family."
Jack's counsel, Patrick Treacy SC instructed by Cian O'Carroll solicitors, told the court that liability was admitted in the case which was settled after mediation. The interim payment will be until Jack is 18 years old, when the court will then be asked to assess his future care needs.
Jack, who is now six years old and has haemophilia, also has a range of difficulties and falls a number of times a day.
Mr Treacy said it was their case that Jack suffered the haemorrhage during the Ventouse assisted delivery at The Coombe on May 24th, 2017, but it was undiagnosed until he was brought to another hospital on June 2nd, 2017. He said Jack very sadly suffered brain damage arising from the delay in treating the haemorrhage.
Jack Clavin, from Enfield, Co Meath, had through his mother, Nicolina Clavin, sued The Coombe Women and Infants University Hospital and the HSE.
Mrs Clavin was admitted to The Coombe hospital on the morning of May 24th, 2017, and her baby was delivered by Ventouse assisted delivery at 5.30pm. Baby Jack was noted to be in a stunned condition on delivery, and he required ventilation with oxygen.
He developed a swelling and bruising of the head in the neonatal period but was discharged from hospital two days after his birth.
It was claimed the swelling and bruising continued to develop tracking down towards his right ear, and he was reviewed by a public health nurse on May 30th, 2017. At this stage it was advised that his head measurement would be monitored, and the bruising observed, and the parents were advised to seek medical help if they had any concern.
His parents brought him to a hospital on June 2nd, 2017, and after the CT scan showed a subgaleal haemorrhage measuring up to 1cm thick, he had to have an emergency craniotomy.
It was claimed Jack suffered brain damage likely to result in cerebral palsy. There was it was claimed a failure to correctly and expeditiously diagnose and treat his subgaleal haemorrhage.
There was an alleged a failure to take any or any timely steps to identify the cause and symptoms of the swelling and bruising to his head in the period following his delivery.
It was further claimed there was a failure to conduct any or any adequate screening tests or investigations of the baby's condition and a failure to notice that the area afflicted by symptoms of swelling and bruising was expanding.
It was claimed Jack was discharged from hospital when it was manifestly unsafe and inappropriate to do so.
A delayed diagnosis and treatment of the baby's haemophilia, it was further alleged, caused his haemorrhage and stroke.
Approving the settlement, Mr Justice Paul Coffey conveyed his best wishes to Jack and his parents.