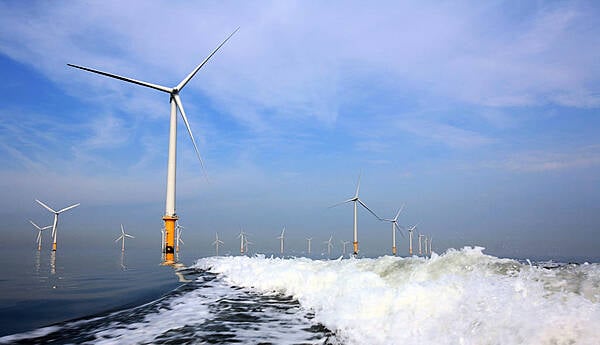 Four energy firms have been provisionally awarded Government contracts to build offshore wind farms, but Irish homes and businesses will pay more than most Europeans for electricity under the deals.
EirGrid ran the State's first-ever auction for the offshore energy projects, which will secure enough energy to power 2.6 million homes a year.
Three of the planned wind farms will be off the coast near Drogheda and Dublin, while the fourth will be off the Co Galway coast.
Breakthrough moment!

We've just published Ireland's first off-shore wind auction results.

The price secured is €86.05 per MW-hour – surpassing all expectations.

Great news for consumers- shielding people against high prices for the next 20 yrs.
👇https://t.co/WngGjNGOih pic.twitter.com/2ejeYzg3S6

— Eamon Ryan (@EamonRyan) May 11, 2023
The four companies will earn an average of €86.05 per megawatt hour (MW/h) – the unit in which electricity is sold – for power generated by the wind farms after winning contracts under the State's Renewable Energy Support Scheme.
The price is more than €20 above the European average, which is around €65 per MW/h. A similar process in Scotland last year awarded deals at around €42 MW/h.
However, it is lower than €96 to €115 MW/h predicted in recent weeks and less than the €98 MW/h most recently pledged to onshore wind developers.
It also trails current wholesale electricity prices, which run up to €130 MW/h according to some calculations, and averaged €200 MW/h last year.
The Department of Environment, Climate and Communications pointed out that the €86.05 average promised to be one of the lowest paid by an "emerging offshore wind market" anywhere in the world.
"It is expected that this price will save Irish electricity consumers hundreds of euros per year," added a statement.
The four successful energy companies are:
North Sea Irish Array, backed by Norway's Statkraft
Dublin Array, backed by German group RWE and local player, Saorgus Energy
Codling Wind Park, backed by French giant EDF Renewables and Norwegian business, Fred Olsen Seawind
Sceirde Rocks, backed by Corio Generation, owed by Australian bank Macquarie's Green Investment Group
The auction results are provisional, according to the department, which will confirm final results in June, after allowing the unsuccessful bidders an opportunity to appeal the outcome.