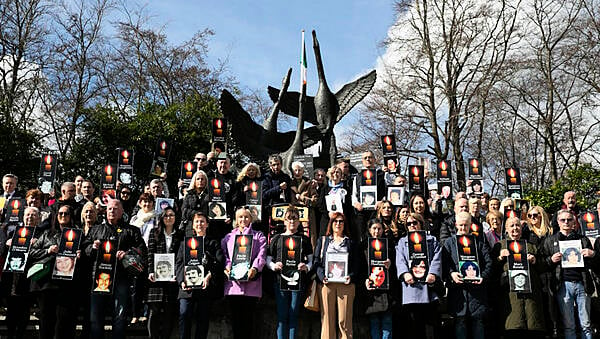 Ryan Dunne
Three members of the same family who lost their lives in the Stardust fire were remembered today at the inquest in the Dublin Coroner's Court, with their sister saying that the Irish State has failed to carry out any proper investigation into their deaths in the four decades since.
"The dead cannot cry out for justice. It is the duty of the living to do so for them," June McDermott, whose brother George perished in the fire, told the jury on Thursday.
William, George and Marcella McDermott were among the 48 young people who died when flames ripped through the Stardust nightclub in Artane in the early hours of February 14th, 1981.
Pen portraits of the victims are being presented at the inquest in the Pillar Room of the Rotunda Hospital, where members of the McDermott family spoke of the "eruption of chaos" in their home after the fire.
The first pen portrait was of William McDermott, presented by his sister Louise. She described William, who was 22 when he died, as "a tall strong lad" and "the big brother who protected us all".
"He had the most beautiful smile with perfect white teeth; it was no wonder all the girls were always chasing him. I remember myself and my sister gathering the Valentine's cards that were delivered to the house and most of them were for Willie. Sadly, he would never get to see them or know how much he was admired," said Louise.
She said that William was not planning to go to the Stardust that night, and their mother was surprised when he told her as he never usually went there.
"But he said: 'Ah sure, it's Valentine's night and everyone's going.' That was the last time our mam saw Willie," said Louise.
The next pen portrait was of George McDermott and was presented by his sister June, who revealed that George was three weeks away from turning 19 when he died in the fire.
"George was very good-looking with black wavy hair and the most amazing hazel eyes. He always had a cheeky grin on his face and our mother used to say, 'What's he up to now?' whenever she saw that grin," said June.
"On that awful night Georgie came down to me to show off his new clothes Mam had bought him for going to the Stardust. He said: 'What do you think of this Junie?' I replied: 'Would you not babysit and let us go out?' He said: 'Not a chance. I have a date.' I never thought that would be the last time I saw him," said June.
Pen portrait
"Now that we have come this far Georgie has his identity back, he is no longer number 30, he is George McDermott, our Georgie. The dead cannot cry out for justice. It is the duty of the living to do so for them," she said.
The last pen portrait was of Marcella McDermott, presented by her sister Selina. Marcella was only 16 when she died.
Selina said that Marcella was with her friends that night, Noleen Dillon, Esther Raynor, and Donna Mahon, who also died. Selina said that Marcella was only officially identified on February 18 because they had to wait for dental records.
"Our lives became very different from then on. I lost my best friend. I remember sitting on the stairs, the crowds of people in the house and waiting to hear if they were found. They were found, but they weren't coming home," said Selina.
"I have known death, sorrow, pain and loss from the age of 11. I didn't speak for a very long time. My mother needed so much help then, she was completely lost, and my father was going through his own guilt, grief and depression. We had no support from the outside, only the family around us who were also grieving," she said.
Selina also read a statement on behalf of the family outlining how the tragedy had affected them all.
"The Stardust – God, how we hate that name. February 14th, 1981, changed our lives as a family forever. Nothing could have prepared us for what was happening and about to happen. We went to bed as a family of eight siblings and woke up as five," said Selina.
She said that when their mother was told that William had been found, she knew that George and Marcella would not be coming home either, as she knew in her heart that all three were gone.
"The eruption of chaos was in our home. It was like not knowing where to start. The crying, the wailing, the fighting and the blaming but most of all, the emptiness," said Selina, adding that their mother's life after the Stardust fire has been one of the most unimaginable grief.
"How do you wake up from a nightmare like this? Only it wasn't a nightmare. She would still leave a key in the front door for years after hoping one of them would walk through any minute."
She said that their father was a fireman and was off duty that night, and he kept saying he could have saved them if he had been there.
"He would often say, being a fireman: 'I know the death they had.' This haunted him for the short years he had left," said Selina.
"What has made closure impossible for the loss of Willie, George and Marcella is the fact that the Irish State has failed to apply law or any proper investigation into their deaths and that's why we're here today."
A final few words were spoken by Bridget McDermott, the mother of the three siblings killed in the fire.
"Willie, George and Marcella were my three children. They went out and never came home. I love, and I miss them dearly," she said.