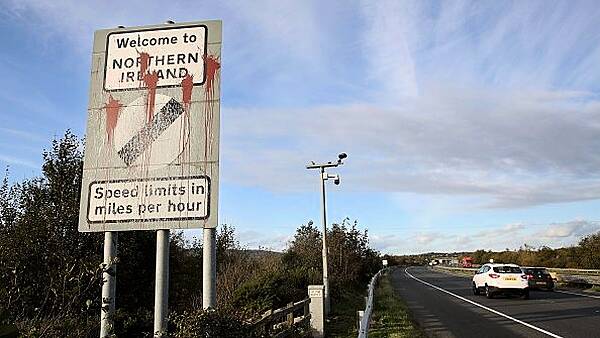 By Cillian Sherlock, PA
The productivity gap between the Republic and Northern Ireland has widened to approximately 40 per cent, despite a similar starting point after the Good Friday Agreement, an Oireachtas committee has been told.
Representatives from the Economic and Social Research Institute (ESRI) were discussing the all-island economy at the Oireachtas joint committee on the implementation of the agreement.
ESRI chief executive Professor Alan Barrett said there are "substantial gaps" between the Republic and the North.
For example, he said, the adjusted GNI* per capita in Ireland was about 51 per cent higher than GDP per capita in Northern Ireland in 2018.
Modified gross national income (GNI*) is a metric which attempts to give a better view of the Irish domestic economy by removing some multinational activity, as compared with the standard metric of gross domestic product (GDP) which is the value of goods and services produced in a country.

He said there was a gap in household disposable income of 12 per cent in 2018 in favour of the Republic, while the proportion of people at risk of poverty was 14.3 per cent in Northern Ireland compared with 8.9 per cent in the Republic.
Today @AlanMBarrett, @seamusmcguinnes and Adele Bergin appeared before the @OireachtasNews Good Friday Agreement committee.

They discussed ESRI research comparing the economies of Ireland and Northern Ireland.

💬Read their opening statement: https://t.co/xEThMET3nR pic.twitter.com/YqhzaNgnY7

— ESRI Dublin (@ESRIDublin) May 11, 2023
Prof Barrett said life expectancy was 1.4 years longer in the Republic in 2018.
"The poorer performance of the Northern Ireland economy relative to both the economies of Ireland and the British regions has been previously linked to its relatively low levels of productivity," he said.
Productivity is measured as the value of goods and services per worker and is a key performance metric.
"Over the period of 2001 to 2020, productivity in Ireland increased by 0.2 per cent per annum and fell by 1.1 per cent per annum in Northern Ireland.
"So you're starting at a similar position in 2000. You got one growing and one falling and the overall impact by 2020, productivity levels were approximately 40% higher in Ireland compared to Northern Ireland."
He called for a comprehensive strategy of improving Northern Ireland firms by reforming education and skills provision and increasing investment "in an integrated way" rather than through single policy levers.
On education, Prof Barrett said levels of educational attainment were lower in Northern Ireland.
Although the proportion of people with third-level qualifications is similar in both jurisdictions, Northern Ireland has significantly fewer people with post-secondary non-third level certifications.
"On the other end of the spectrum, early school-leaving is two to three times higher in Northern Ireland compared to Ireland."
Senator Emer Currie described the productivity gap as "stark".
Prof Barrett said Northern Ireland's economy has grown but by adding lower productivity jobs it did not converge on the living standards of the Republic or Britain.
He was critical of policymaking in Northern Ireland compared with what he saw as an integrated approach in the Republic of Ireland.
"One of the great difficulties is that their departments tend to be rather siloed and that's partly as a result of mandatory coalition, but it's actually to do with sort of the structure of the civil service departments as well."
He later added: "While a lot of money flowed into Northern Ireland over many years, it's not entirely clear that the money was used well."
ESRI researcher Dr Seamus McGuinness said Northern Ireland has historically been "at the bottom" when compared with British regional economies and said "there was no investment at the time of the Good Friday Agreement".
"Irrespective of the quality of policymaking, it's going to be increasingly difficult if you don't have the basic infrastructural system in place to try and grow the economy."
He said if there was to be a constitutional change towards a unification of the Republic of Ireland and Northern Ireland then voters need to know "fundamentally how welfare and living standards differ right across various dimensions on both sides of the Border".
"And they need to know how those situations are likely to change in the event of a Border poll ratifying reunification."
On the topic of subvention for Northern Ireland, the ESRI representatives said that planning for a potential unification should be ensuring that the Northern Ireland economy should be brought up to a point where that would not be required.
ESRI researcher Dr Adele Bergin said: "Irrespective of constitutional change, would it not be desirable to have policies in place that would improve Northern Ireland's productivity that would improve education and overall living standards that would actually reduce the needs for subvention anyway?"
Dr McGuinness said the discussion around subvention is a "red herring", adding that nobody knows the exact figure.
"Subvention is an issue, it's an issue that's driven by low productivity. Low productivity is not something that is set in stone, it's something that can be fixed."
He said this is related to a lot of things, but particularly the quality of jobs being produced.
"I think it's not a controversial statement to say the Northern economy is underperforming and that there is substantial scope for productivity gains, given the right investment, and the right policy framework."
Prof Barrett said there was no doubt that greater political stability in Northern Ireland would help investment.
Asked about low-lying fruit for co-operation, Dr McGuinness said it was not "rocket science" to say there was massive duplication in the two health systems and there were economies of scale to be gained.
He said the all-island labour market had been affected by Brexit along with infrastructural barriers.