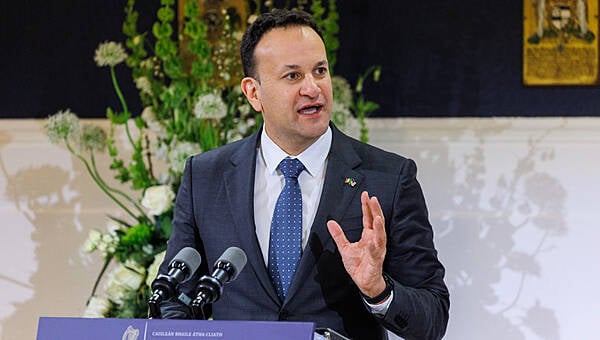 By Gráinne Ní Aodha, PA
There is evidence some companies are profiteering during the cost-of-living crisis, Taoiseach Leo Varadkar has said, but added that windfall taxes would give money back to the public.
Mr Varadkar said there is evidence that some retailers are securing "significantly" bigger margins on their profits in Ireland than they would in other markets.
He said that the competition regulator has "enormous powers" to intervene and carry out investigations into unfair trading, price fixing, or price signalling.
Although Mr Varadkar agreed that people's bills and prices had gone up faster than they were decreasing, he said prices would not return to where they were before the inflationary crisis began.
"We've seen the price of everything rise dramatically over the past year and a half, we haven't had a period of inflation like this for a very long time, probably going back to the 1980s, and as a result of that a lot of families are struggling to make ends meet," Mr Varadkar told Virgin Media's The Tonight Show.
"Wages are rising, but for the first time in a long time, prices are rising faster than wages. So a lot of people are worse off in real terms and that's very evident from what people say to me.
"I do expect to see prices moderate, inflation is slowing down now, we see things like petrol and diesel coming down, for example.
"But we want to see other costs go down too – particularly electricity and gas, which we should see falling over the next couple of months.
"Groceries is going to be a little bit different, and we are starting to see some some price falls there."
The Fine Gael leader added: "I think there is evidence of profiteering. The reason why prices have gone up is manifold.
"It's the war in Ukraine, it's the snapback in demand after the pandemic, interest rates going up.
"There's lots of different reasons. But you know, the evidence is there. Even the European Central Bank says it, that there are some companies that are recording bumper profits, and that is profiteering in my view."
Consumer prices rose by 7.2% over the 12 months to April 2023https://t.co/M1C4qLIoLR#CSOIreland #Ireland #CPI #ConsumerPrices #Inflation #Deflation #Prices #BusinessStatistics #Business #BusinessNews #IrishBusiness pic.twitter.com/LDH74E7kgf

— Central Statistics Office Ireland (@CSOIreland) May 11, 2023
He added: "There is some evidence that some retailers anyway are securing bigger margins on their profits in Ireland than they would in other markets, and that's not justified.
"Businesses have to make a profit, if they don't make a profit, they can't expand.
"But there's no reason why any company should be making substantially bigger margins here in Ireland than would be the case in the UK or other parts of Europe, and that's something that we're examining."
He said he would not rule out a windfall tax for retailers as had been done for energy companies, but added that evidence was needed first.
"When it comes to energy companies, we're hitting them with windfall taxes and special dividends. We'll use that money to get back to people to help with their electricity bills, small businesses as well.
"And when it comes to the grocery sector, we're engaging with them on that now, but we expect to see prices come down."
The latest update of the Consumer Price Index (CPI), which measures the change in the average level of prices of consumer goods, puts inflation at 7.2 per cent compared with 12 months ago.
The national average price for white sliced pan bread was up 23 cents, while 500g of spaghetti had increased by 27 cents in the year to April.
Two litres of full fat milk has increased by 44 cents in a year and a pound of butter had risen by 66 cents.
Supermarkets have been reducing the prices of own-brand staples such as milk, bread and butter in recent days, which has put pressure on the Government to encourage further price reductions.
"We said very clearly to them that as their input costs come down now, as energy prices come down, we need to see prices moderate and come down as well," he said.
He continued: "But one thing I think we probably will see, and it is important to be honest with people about this, when you have a period of inflation, what tends to happen is prices level off and maybe fall back a bit.
"But they never go back to where they were, over time prices rise.
"And that is why it's important that wages go up, that pensions go up, the welfare goes up as well, and that people pay less income tax, and that's what we did in the last budget, and that's what we're working towards in the next budget as well."