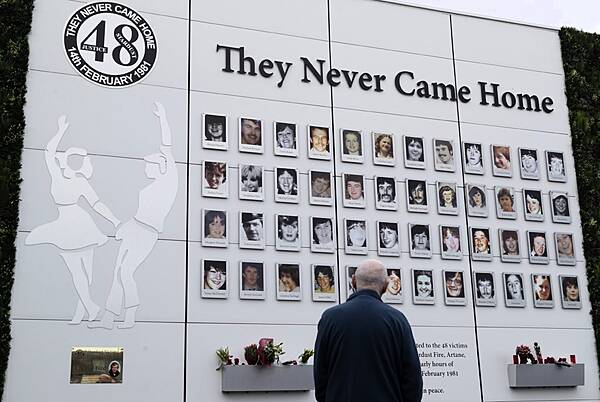 Fiona Magennis
A family has told of how they lost one sister to the Stardust fire while another, who survived the blaze, took her own life the day before she was due to receive compensation from the State and start a new life abroad.
In a pen portrait of Julie McDonnell presented to the inquest on Friday, her niece Pamela McDonnell said her aunt had been due to have a party for her 21st birthday the weekend after the fire, but instead her family found themselves planning a funeral.
Pamela said Julie and her sister Lorraine were "like two peas in a pod" and did everything together. The sisters shared a bedroom filled with records, posters and books, she said, and went everywhere together.
Pamela said, on the night of the Stardust fire, Julie escaped the blaze but went back in to find her sister, Lorraine.
She also described the guilt their younger sister, Paula, still feels to this day as she was dancing in the competition that night and the siblings had attended the Stardust to support her.
Pamela said Julie was fun-loving, happy, caring and thoughtful person who worked hard to provide for the family, alongside her mother.
Julie was "football crazy" and was a coach for a local football team. She also loved music and was "Elvis mad", Pamela told the inquest.
Competition
Pamela said her mother and father Paddy, Julie's brother, also attended the Stardust on the night of the fire and "both saw and heard things that are etched in their minds and will forever be a part of who they are now".
She told how, on the night of February 13th, there was a great buzz in the house as Paula, the youngest sister, was dancing in the competition and everyone was going to support her.
When Paula was crowned the winner alongside her dance partner, Julie and Lorraine "went mad, screaming their heads off with delight for her", Pamela said.
"Paula remembers leaving the stage and joining the girls for a celebration dance and everybody was so happy."
She said after the fire broke out, there was "chaos", with people looking for loved ones. Her father, Paddy, saw Paula leave and met Julie outside.
"They were both looking for Lorraine. He said: "You go that way and I'll go this way". Little did he know Julie went back into the fire to try and find her sister," Pamela said
She said her Dad arrived home to find Lorraine had been taken to hospital and Julie had not yet returned. She said her grandmother and Paula stood by the window waiting for news.
"My Dad told them that he saw Julie and that she was out and not to worry. My Nanny had convinced herself that Julie was okay and that she had gone to help somebody else."
However, as time went on, panic started to sink in, and her father and his brother went to search the hospitals for Julie.
The search continued the following day before Julie was identified by her aunt Lily and uncle Michael, wearing a charm bracelet Lily had recently given her.
Pamela said that was the start of a whole new life in the McDonnell household "filled with pain, anger and hurt".
21st birthday
Julie's 21st birthday was planned for the following weekend and the family were faced with cancelling her party and organising her funeral instead, Pamela said. Julie was buried in Sutton graveyard two days before her 21st birthday.
Paula, who was just 15 on the night of the fire, had to live with the fact that lots of friends and family had gone to support her that night, Pamela told the Coroner's Court. "I speak to Paula today and I see the anguish and the guilt that she lives with."
She said Julie's death also took a big toll on Lorraine. "She had lost her sidekick; her mental health was suffering."
Pamela said Lorraine could not find work in Ireland and began applying for jobs in New York and Canada as an au pair.
She explained how in 1986, the government was paying out compensation to the victims of the fire.
"This did not sit well with Lorraine, and she told my dad she felt as though they were buying her grief," Pamela said. "She was offered 33,000 pounds for her burns and was due to collect her cheque on Tuesday. That was not to be as Lorraine killed herself on the Monday night. Another child gone."
Pamela remembered her aunt as someone with a "wicked sense of humour" who "spoiled me rotten and brought me everywhere".
She said her grandmother had died, heartbroken, in December 2020.
"There was no justice nor any resolve for her. Our only consolation is that she is with the girls now," she added.
Dark Shadow
In a separate pen portrait also delivered on Friday, the brother-in-law of a woman who lost her only sibling in the Stardust fire told how she developed Multiple Sclerosis (MS) in the years following the blaze and suffered a further blow when her husband and carer contracted Covid and spent months in hospital before finally succumbing to the disease in December 2021.
Gay McKeon spoke as he presented a pen portrait of Gerard McGrath (21), prepared by his sister-in-law Liz McKeon (née McGrath) before she died last year.
He said Liz and his brother Sean had married 10 weeks before the Stardust. The couple did not have any children of their own and there were no surviving members of the McGrath family, so he was presenting the portrait on Liz's behalf, he explained.
Mr McKeon said the Stardust fire had a huge effect on Liz and her family and had been "like a dark shadow looming over them for 40 years".
He said Liz's MS had a huge impact on her physical abilities and she was almost solely confined to bed, using a modified wheelchair when up and around.
Gay said Sean was Liz's main carer, but when he became ill and was admitted to hospital for treatment, he contracted Covid and died in Beaumont Hospital.
"Liz didn't get to see him for months and only got to see him briefly the day before he died," he said.
He said Gerard had lost not just his life but also the opportunity to fulfil his own hopes and ambitions, have a family of his own, leave a legacy, perpetuate that line of the McGrath family tree and to have close family to remember him".
Gerard said he was hopeful the inquest will deliver justice for Gerard and the other victims who lost their lives in the Stardust.
'An almost impossible task'
In her pen portrait of Gerard, Liz said to be asked to encapsulate her wonder brother, the potential 40 years of life he had stolen from him and the effects it had on their small family was "an almost impossible task".
She said Gerard was an independent young boy who spent his days in classic childhood pursuits of the time and was only seen at home when he had to eat or sleep, Liz said in her portrait.
He had a passion for wildlife and an encyclopaedic knowledge of garden birds.
Three years his elder, Liz said she was entrusted to bring him to the old Dublin bird market or to George's Pet Shop on Marlborough St to listen in wonderment to 'Jacko', the talking Myna bird.
She told how Gerard loved to visit the Natural History Museum where he was fascinated by the exhibits.
"He adopted our first dog, convincing our mother that 'Scamper' had followed him home – several dogs followed, Gerard ensuring their central part in the life of our family," Liz said.
Talented with his hands and good at repairing things in the house, Gerard went on to become an apprentice cabinet maker, a trade he was learning diligently at the time of his death.
He was dapper and particular about his clothes, she said, and would often spend Saturday afternoons with an iron in his hand pressing shirts and jeans listening to his record collection which included Mud, Sweet, Gilbert O'Sullivan and the Bay City Rollers.
On the morning of the fire, Liz said she rang Gerard to ask for a lift. He told her he and his girlfriend had booked a holiday and would be curtailing their socialising to save for it.
When Liz asked about the Valentine's disco that night he replied: "Of course I'm going out tonight, tomorrow is Valentine's Day – after that I'll be saving hard."
Those were the last words he ever spoke to her, Liz said.
She told how the doorbell rang at 3am the following morning and how she spent days waiting for formal identification as he was one of the last victims to be identified.
"Only 10 weeks after he had celebrated at my wedding, I now had to choose a coffin for my young brother."