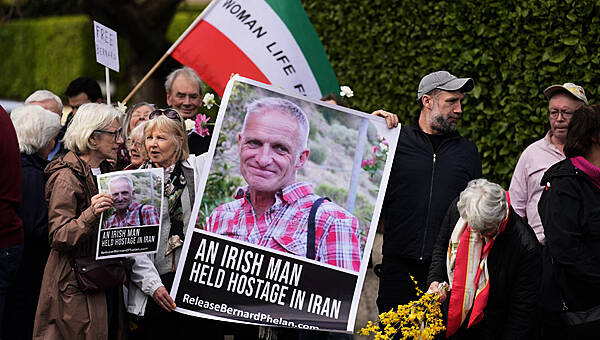 Updated: 2.35pm
Tánaiste Micheál Martin has welcomed news of the release of Irish national Bernard Phelan from a prison in Iran.
Mr Phelan was detained by Iranian authorities in 2022, with news of his release confirmed on Friday morning by Iran's embassy in Ireland.
The 64-year-old dual Irish/French national spent almost 200 days in a prison in north-east Iran after his arrest in Mashhad in October 2022 while on a trip.
His family claim he was charged with "providing information to an enemy country", which Mr Phelan denies.
Speaking to RTÉ's News at One, the Tánaiste said officials are very pleased that Mr Phelan has been released.
Confirming Mr Phelan has now left Iran, Mr Martin said: "He's on his way home now to his family, and we expect that he'll be back in France tonight.
"It's been an extraordinarily difficult seven months for Bernard and for his family members and loved ones."
"Our thoughts are with all of them today, and particularly his 97-year-old father, Vincent, and his sister, Caroline, who I spoke with yesterday, and who has been incredibly brave and steadfast throughout this ordeal," he added.
Resolution
He added he was also pleased that a French national who was imprisoned with Mr Phelan, Benhamin Briere, has also been released.
The Tánaiste thanked French and Irish teams in Dublin, Paris and Tehran, "who have been in constant contact over the last seven months and have worked seamlessly together to bring this case to a resolution".
Amnesty International had previously called for Mr Phelan's immediate release, raising concerns about the prison sentence he received in February 2023.
Responding to Friday's news, the human rights group said Mr Phelan's family "worked tirelessly to secure his release and we are pleased that they will see him again".
"Bernard Phelan's detention was arbitrary, due to the gravity of violations of his fair trial rights, including the right to access an independent lawyer of his own choosing, to adequate defence and to meaningfully challenge the legality of his detention before an independent and impartial court," Amnesty Ireland International said in a statement on Friday afternoon.
"For this and other human rights violations, Bernard Phelan must be accorded an enforceable right to reparations from the Iranian authorities.
"Amnesty International remains deeply concerned about the Iranian authorities' practice of using detained dual and foreign nationals as leverage, and again urges all states whose nationals are or have been detained at any point in Iran to promptly examine whether the deprivation of liberty amounts to an act of hostage-taking, and if so, to ensure accountability," they added.
Prior to his release, the group and Mr Phelan's family had raised concerns about his deteriorating health, with his relatives saying that he requires daily medication for a number of health conditions.
His family said that his eyesight was deteriorating, as he had an operation on both of his eyes prior to his trip to Iran and has not had any follow-up treatment.
Earlier, in a statement, the Iranian embassy said: "Constructive diplomatic engagement between Iran and Ireland has resulted in pardoning and releasing of the Irish citizen, Bernard Phelan, on consular and humanitarian grounds."