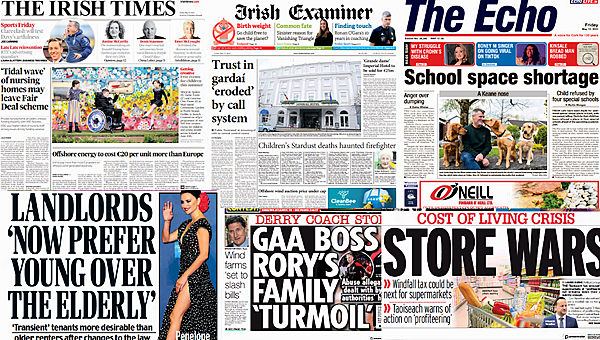 The cost of items in Supermarkets due to inflation, landlords preferring young people as tenants, and nursing homes pulling out of the Fair Deal scheme are among the headlines in today's papers.
The Irish Times reports that a "Tidal Wave" of nursing homes could bes set to leave the Fair Deal scheme across the country.
The Irish Examiner leads with trust among the public towards gardai has been affected due to the "eroded" call system in place at call centres.
The Echo leads with calls for additional special school places in Cork after a child was refused a place in four different schools in Cork.
The Irish Daily Mail reports that landlords now prefer younger tenants in their property due to the laws that were introduced that give tenants more rights.
The Irish Daily Mirror leads with Leo Varadkar's comments on profits made by supermarkets during inflation, with reports Supermarkets are set for a windfall tax.
The Irish Daily Star leads with allegations of domestic violence made against Derry manager Rory Gallagher by his wife.
The rise in interest rates dominated the front pages across Britain on Friday.
The Financial Times reports on the Bank of England lifting interest rates, warning its inflation target will not be reached until 2025.
Just published: front page of the Financial Times UK edition Friday May 12 https://t.co/TNgHQ7aPba pic.twitter.com/9R55FiSoEr

— Financial Times (@FinancialTimes) May 11, 2023
The Daily Mirror and the i echo the FT with a fresh warning that inflation increases are not over.
Friday's front page 📰

Interest rate pain: It's not over yet 📈

Read more: https://t.co/KMfiVqNDM6#TomorrowsPapersToday pic.twitter.com/ZGpObgQoWm

— The Mirror (@DailyMirror) May 11, 2023
Friday's front page: New UK inflation warning as Hunt admits key pledge may be broken#TomorrowsPapersToday

Latest by @HugoGye @RichardVaughan1: https://t.co/DOfJGb3ZNq pic.twitter.com/UyWiBfnpx8

— i newspaper (@theipaper) May 11, 2023
The Daily Express focuses on economists criticising the Bank of England for inaccurate predictions.
Front page: Wrong! Wrong! Wrong! #tomorrowspapertoday

Penny Mordaunt unveils that she took painkillers to carry sword: https://t.co/p3zYQKUB8z pic.twitter.com/c0OKOjJl1d

— Daily Express (@Daily_Express) May 11, 2023
The digital edition of The Independent leads on the "mortgage misery" as interest rates hit 4.5 per cent.
INDEPENDENT: Mortgage misery for millions as rates hit 4.5% #TomorrowsPapersToday pic.twitter.com/UbgQjBuSkM

— Neil Henderson (@hendopolis) May 11, 2023
The Daily Telegraph urges people to go back to work to help cut taxes with the workforce short of 400,000 people.
The front page of tomorrow's Daily Telegraph:

'Go back to work and we can cut tax by 2p'#TomorrowsPapersToday

Sign up for the Front Page newsletterhttps://t.co/x8AV4OoUh6 pic.twitter.com/gaviIZnzQX

— The Telegraph (@Telegraph) May 11, 2023
The Times takes a more positive look at the economy, reporting food prices are on the way down.
TIMES: Food prices 'on way back down' #TomorrowsPapersToday pic.twitter.com/MdEwjLS64r

— Neil Henderson (@hendopolis) May 11, 2023
Moving away from the economy, the Guardian leads with the UK sending long-range missiles to Ukraine.
GUARDIAN: UK sends long-range missiles to Ukraine in first for West #TomorrowsPapersToday pic.twitter.com/lPx3a7hf4X

— Neil Henderson (@hendopolis) May 11, 2023
The Daily Mail says prison officers have been ordered to stop calling criminals "convicts, in case it offends them".
Friday's @DailyMailUK #MailFrontPages pic.twitter.com/i80zpU1Pm9

— Daily Mail U.K. (@DailyMailUK) May 11, 2023
The Sun concentrates on showbusiness, saying Phillip Schofield has made a last-ditch attempt to save his This Morning partnership with Holly Willoughby.
On tomorrow's front page: Desperate Phillip Schofield releases extraordinary statement in fight to mend broken relationship with Holly Willoughby https://t.co/D7xMeXitVk pic.twitter.com/NAeEn2fWkX

— The Sun (@TheSun) May 11, 2023
The Metro and the Daily Star say DNA from fur found after a attack on sheep shows "definitive evidence" big cats roam Britain.
Tomorrow's Paper Today 📰

BIG CAT BREAKTHROUGH

PROOF CLAWS EXISTS

DNA from fur found after sheep attack 'definitive evidence' predators are roaming our countryside#TomorrowsPapersToday pic.twitter.com/UQ55vmfGRM

— Metro (@MetroUK) May 11, 2023
A huge breakthrough 😮 #TomorrowsPapersToday https://t.co/F0pN7GX3qL pic.twitter.com/xIBaT3Dcka

— Daily Star (@dailystar) May 11, 2023