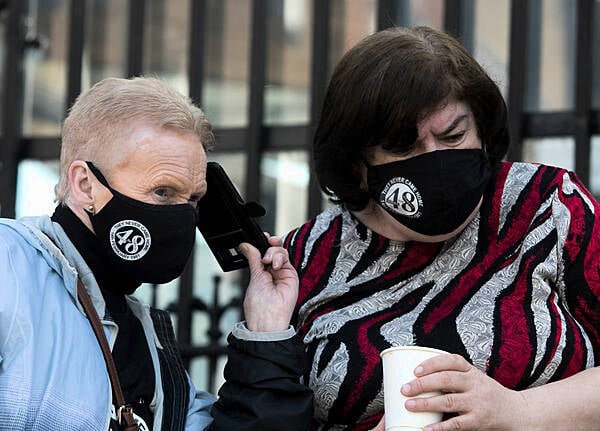 Fiona Magennis
Delivering a pen portrait of Teresa McDonnell at the Stardust inquest on Friday, Lorraine Sorohan (née McDonnell) said her sister's last words to her were "engraved in her mind" and have "haunted" her throughout her life.
She told how Teresa had bravely abandoned her own safety after realising a fire at the Stardust nightclub, which killed 48 people in the early hours of February 14th, 1981, had broken out and sought Lorraine out to warn her about the blaze and tell her to get out, saving her life in the process.
Lorraine explained that on the night of the fire, they had gone to the disco separately with their own groups of friends. Teresa was sitting near the main door while Lorraine was at the back. They were having a good time, she said, and Teresa came over several times to chat.
"When the fire started, Teresa forgot about her own safety and sought me out to tell me there was a fire, that I was to get out," she explained.
"My sister's last words have haunted me all my life," Lorraine added.
Lorraine said when she got out, she went to the front of the building and saw some of Teresa's friends.
"The first thing they said to me was: 'Where's Teresa?' When we couldn't find her through the crowds, there was pandemonium and chaos."
Lorraine said she eventually went home to tell her parents, who searched the hospitals for Teresa.
Selfless
She told the inquest of how her father broke down crying when he could not find his daughter, and the realisation dawned that the only place left to look for her was the morgue.
She said her father was dead within two years. "The shock of the fire and identifying his daughter had killed him."
Lorraine described Teresa as a "selfless person who would always put other people before herself".
Her sister was her "soulmate" and "confidante", she said, adding she has struggled with the great loss of Teresa all her life.
She said Teresa should have been her chief bridesmaid at her wedding and godmother to one of her children, adding she is always missed at family get-togethers and is always remembered at parties, weddings and especially at Christmas.
"Her last words to me are engraved onto my mind: 'Lorraine. Get out, there's a fire'.
"That last memory I have of my little sister is putting me before her own safety. Her death has left a huge hole in my heart and to this day I shall miss my sister, Teresa McDonnell."
Teresa's brother Richard told the inquest his sister had been the "focal point" around which everything else had revolved and said she had held everything together with "love, fun and happiness".
"When she was killed on Valentine's night over 40 years ago, our whole family was scattered to the wind," he said.
Richard added the McDonnell family had "lost everything that night".
Fun-loving
He said Teresa was a "fun-loving, friendly beautiful young girl" who was killed at the age of 16 and a half.
He described his sister as a "brave" young woman who loved animals and always stood up for what she believed in no matter what the consequences.
Teresa loved hair, make up and beauty and was considering a career as a beautician or a hairdresser. She had a "huge circle of friends" who still talk about the "fun-loving, full of life personality" she was, he said.
Richard explained that when gardaí called to the house with some of Teresa's belongings, their mother's "howling screams" had "ripped through our whole family".
He said within a year of the fire, their father was "wrecked with cancer – not from life habits but from seeing his daughter lying in a body bag and being identified by her eternity ring she had got from my mother, a miraculous medal and brown scapulars [medals]".
Their mother's pain was visible on her face, he said, and her "heartbreaking, never-ending sobs filled our home".
He added the family lost more than a sister in the Stardust fire; they had lost a soulmate.
"Teresa was our best friend, a confidant to us all. A person who always had time to talk, always had kind words and the wisdom of knowing how to use those words.
"The hearts of our mother and father were shattered that night, their souls stripped bare."
He said after the fire, there was an absence in their home and their hearts, and the family were "left alone in the darkness of bereavement".
"The wait for all our unanswered questions has been over 42 years. I hope now, we the families of the 48 victims of the Stardust fire, find the justice and peace we have looked for," he said.