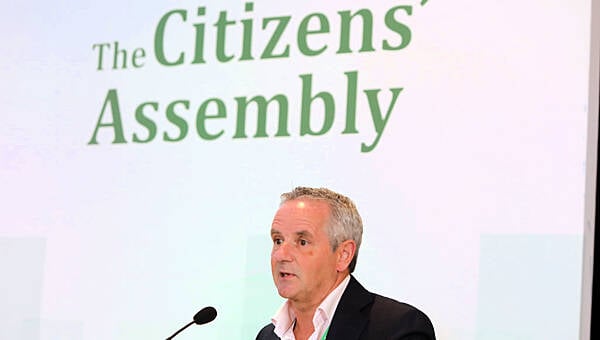 By Cillian Sherlock, PA
The Citizens' Assembly on Drugs Use has been told of the "vicious cycle of addiction, criminalisation and trauma".
The Assembly is holding its second weekend of meetings in Dublin Castle this Saturday and Sunday, when members are focusing on the "lived experience of drugs use" and its impact on individuals, families, frontline workers and communities.
The 99 members and independent chairman, former HSE chief Paul Reid, were scheduled to hear from a range of speakers during a series of four-panel discussions on Saturday.
Mr Reid said he expected the weekend's discussions to be "the most innovative, creative, brave, and courageous" Citizens' Assembly meeting ever.
The Assembly was shown a series of testimonies of anonymous individuals that was produced by advocacy group UISCE.
It included references of trauma from dysfunctional homes and sexual assault as well as discrimination in the criminal justice system and society.
During the first panel on the lived experience of individuals, the Assembly was told about how trauma can lead to addiction.
Gillian O'Donnell, who was born with a substance abuse disorder, began using heroin by age 11.
"Both my parents were people that had used drugs," she said. "I was born addicted to heroin."
She spoke about the impact of criminalisation of drug use, which she said resulted in her losing her home and access to her children.
"I was traumatised being in emergency accommodation, I was traumatised after losing my children so, you know, obviously, the addiction escalated.
"I tried different drugs that I probably wouldn't have, you know.
"It took a hold of me."
She advocated for a health-led approach to responding to addiction.
"The systems are designed to be negative towards people that use drugs.
"There's no compassion, there's no love, there's no care."
At the same panel, Karl Ducque said he had experienced traumas "very young" while growing up in inner-city Dublin.
He began misusing solvents at the age of 11 and progressed into other drugs in his early teenage years.
"When you take ecstasy, for every up there's a down.
"And when you're coming down, heroin was around. I started taking heroin at about 15-16 years of age".
Mr Ducque also spoke of the "internal stigma" of drug use.
He said he has lost family members and friends to addiction, HIV and hepatitis C.
"The amount of friends I've lost, I really feel privileged to be sitting up here sharing my story."
He was critical of services for drug users and likened his youth work to firefighting: "You feel like you're firefighting, constantly putting out fires and trying to be in the moment with a young person but there's nothing there long term for the people."
Sharon Connors said she had an early childhood trauma at the age of six and was kicked out of school aged 11.
"I turned to cocaine, drink, benzos.
"At first it was just a laugh, like, you know what I mean?
For years she was in denial about her addiction.
"I was hurting and I didn't know how to deal with it".
Fionn Connolly-Sexton discussed drug use among young people, who he said are experiencing an "immense of pressure".
"In every friend group, I think nowadays there is somebody who uses some form of class A drug. It could be cocaine, it could be ecstasy, it could be MDMA."
He said his brother died of suicide on his 22nd birthday in 2015 after starting to use drugs in his teenage years while dealing with mental health difficulties.
"And when you take something like liquid MDMA, which he took, it majorly imbalances your brain sometimes and if you've got a mental illness, that can really set you down a path of spiralling, and it can really set you down a path of bad mental health."
He called for better access to mental health services in response to addiction and drug misuse.
Separately, Mr Reid urged the public and interested parties to make submissions through the Assembly's online public consultation process.
The Assembly has received more than 350 submissions so far, which Mr Reid described as "phenomenal".
This weekend's meeting follows the opening of the Assembly last month, where members were given information on national and international drug policies as well as current drug-use trends.
On Sunday, the members will visit treatment centres and speak to staff and service users at Coolmine and Merchant's Quay Ireland.