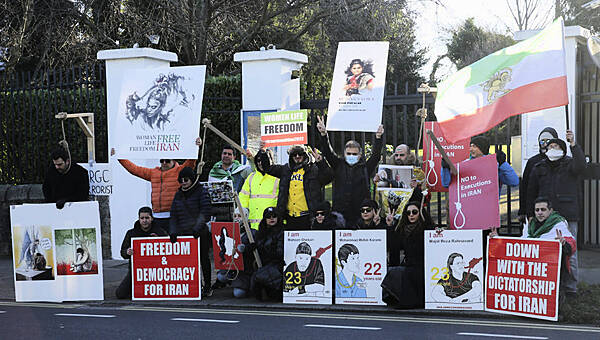 Tom Tuite
Four men arrested for causing criminal damage to the Iranian embassy in Dublin during a protest have been released on bail with strict conditions.
Esmaell Mohammadi, 25, Richmond Court, Richmond Street, Longford, Nikrooz Esmaeilzadah, 50, Castleland Park Way, Balbriggan, Dublin, Reza Yaghoopi, 41, Newtown, the Malahide Road, Coolock, Dublin, and Saeid Khosroabadi, 28, Seville Place, in central Dublin were arrested at just after 11 pm on Friday.
They were held overnight in Garda custody and appeared at Dublin District Court on Saturday when gardaí agreed to bail with restrictions.
Judge John Hughes noted the four men did not require interpreters.
Mr Khosroabadi addressed the court and said he understood but challenged the bail terms, asking, "Why should I stay away from that embassy."
"Sorry, sir, those people in that embassy are killing people, killing people," he said. He queried a garda's request to order him to stay away, claiming, "Do you know those people behind those walls are really criminals".
The four, yet to indicate pleas, are charged with criminal damage to the exterior walls of the Embassy of the Islamic Republic of Iran at Mount Merrion Ave, Blackrock, Co. Dublin, on May 12th.
Mr Yaghoopi has two additional charges: possessing a screwdriver to use it or permitting another to use it to damage property by removing the embassy plaque from the wall and trespassing at a private residence in Blackrock.
Detective Garda Tara Byrne and Detective Garda David Lestrange gave evidence of arrest, charge and caution. The court heard that each man "made no reply" to the charges, and the detectives confirmed there was no objection to bail provided they obeyed several conditions.
The court did hear any evidence about the alleged incident.
The four men were ordered to obey curfews, sign on three days a week at their local garda stations, and stay out of Blackrock and away from the embassy.
Judge Hughes told the defendants this hearing was to deal with bail and not the substance of their charges.
Legal aid was granted to three of them.
Mr Yaghoopi said he was looking for a woman to represent him, and solicitor Colleen Gildernew was assigned to his case.
Mr Khosroabadi said he was employed but informed the judge he would represent himself, and he declined the court's offer to provide him with legal representation.
Judge Hughes remanded them on €500 bonds to appear at Dun Laoghaire District Court on June 1st for directions from the Director of Public Prosecutions.