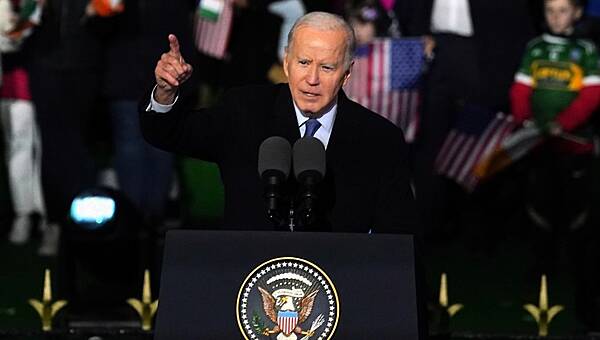 James Cox
US president Joe Biden was "delighted" with the Irish For Biden campaign, which has already started work for his 2024 re-election bid.
Organised by Paul Allen, Irish For Biden encouraged people with contacts in the United States to 'Call A Cousin, Phone A Friend, and Ring A Relative'.
Mr Allen was working in Dundalk, Co Louth, as part of the group during Mr Biden's recent visit to Ireland, where he met the US president.
He told BreakingNews.ie: "I met the president in Dundalk representing Irish For Biden, and he was delighted with it."
Mr Allen also met Mr Biden's son Hunter and sister Valerie, who accompanied him on the visit, and he said they were also very impressed with the campaign.
"I had a chance to meet Hunter Biden and Joe's sister Valerie. They really liked that… and the phone a friend element they're going to use in the US when they start rolling things out.
"They were blown away by it… they thought it was terrific. Particularly Hunter was taken back at how much effort is put into this.
"We will be rolling up our sleeves and getting started in the coming weeks."
Mr Allen said he has been busying preparing Irish For Biden for the 2024 US presidential election, with updates and new material set to be released in the coming weeks.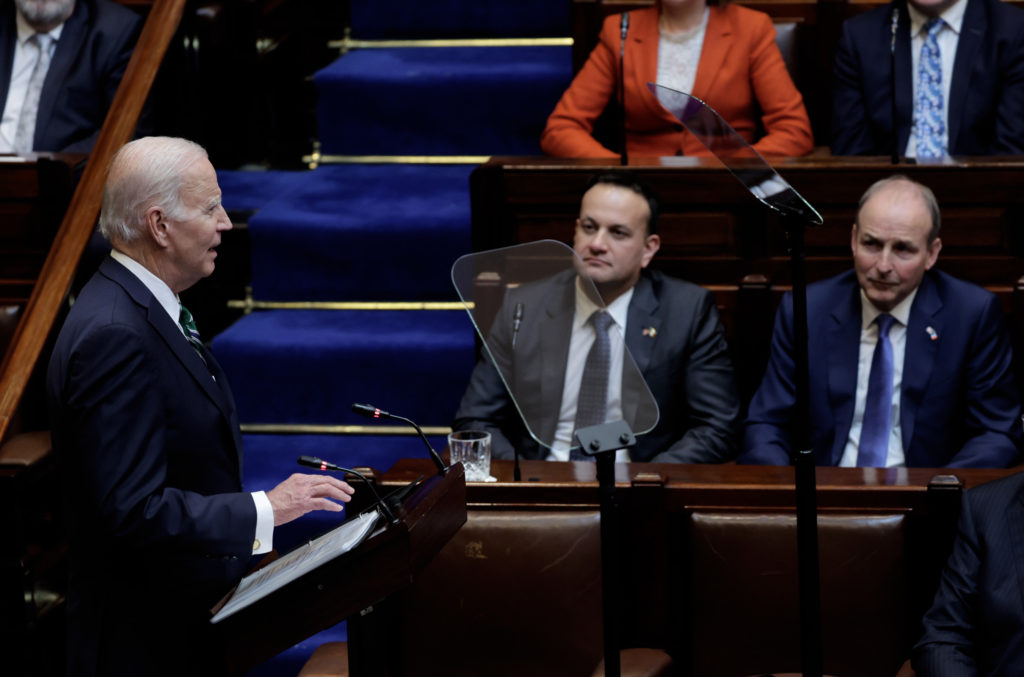 "As the lead organiser of Irish For Biden, I just want to say the amount of people who have come out of the Irish community from local councillors to people in business to try and help and energise what we're trying to do is terrific.
"We're inundated with people contacting us and wanting to help out… from Democrats Abroad through to people in Ballina and Dundalk."
He added: "We were working in Dundalk, and we were a guest of the White House in Ballina… so the amount of people we met and the contacts we built was second to none. We will certainly be rolling all that out and maximising that in the weeks ahead.
"In Ballina I met Martin O'Malley, the former presidential candidate and governor of Maryland, the outpouring of contacts we have is phenomenal, so we are ready to go… and we have so many people we can call upon.
"Having met the team around him [Mr Biden], they are a remarkable professional group.
"We have more fresh material of him for our website in the weeks to come that will be in keeping with the overall strategy, coming from Washington DC."
Mr Allen was also in attendance at the Good Friday Agreement anniversary conference in Queen's University Belfast, where he met Bill and Hillary Clinton.
He said they were "very excited for Biden's campaign, and they certainly believe he will win".
Mr Allen believes Mr Biden's experience of "fighting as the underdog" will stand to him in the 2024 election, while he feels the recent visit to Ireland was "invaluable" for tourism.
"He spent loads of time in Dundalk and people stood out in the rain for hours, and it didn't do anything to bring down the fantastic occasion.
"My hero is JFK, but this man is more Irish than Kennedy and he's very keen to tell people.
"It's also a huge influence for people, if you are the underdog always stick at it, and you will win out in the end. Biden has had failures and setbacks in his life… but he's always kept going, and that can be an inspiration to a lot of people.
"Ballina and Carlingford are now very much on the map. No influencer could market Ireland the way Biden's visit has done.
"We're looking forward to getting going. The phone a friend concept is brilliant and works very well."