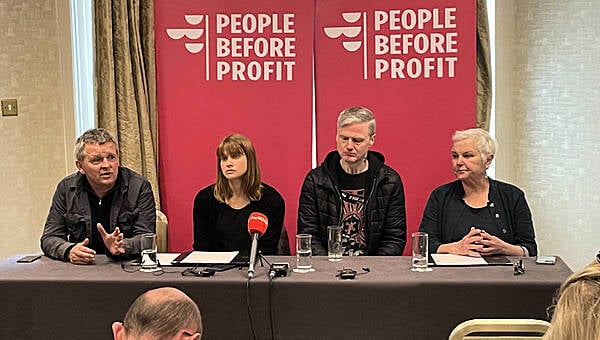 By Gráinne Ní Aodha, PA
Two residents who are due to be evicted from their Dublin city apartment block have spoken about the stress and anxiety of not knowing where they will live.
More than 30 households were served with an eviction notice in October, with 13 households still left living in the apartments in Kilmainham.
Although the eviction date is June 2nd they do not have to leave until there is a conclusion to the ongoing mediation between the landlord and the tenants, facilitated through the Residential Tenancies Board (RTB).
Residents Madeleine Johansson and James O'Toole, who are both members of the People-Before-Profit party, spoke to reporters after an adjudication hearing was held between the tenants and the landlord on Monday.
Ms Johansson, who is also a councillor, said there are thousands of tenants in a similar situation to their own.
She criticised the government for ending the moratorium on no-fault evictions at the end of March, stating that if it had been extended it would have helped their situation.
"We wouldn't have to be here, enduring sleepless nights and huge mental stress, if the government had made a decision to extend that eviction ban at the end of March," she said.
Ms Johansson said that a rally is to be held outside Tathony House on June 2 at noon, and encouraged other tenants who face eviction to attend.
Mr O'Toole said that more than 26 people are affected by the eviction notice at Tathony House and are "all relatively low paid workers".
"We're the people who are renting because we can't get mortgages. We can't afford mortgages and we're stuck perpetually renting," he said.
Mr O'Toole said he will not just "walk into emergency accommodation".
"I've been looking at the emergency accommodation situation and it's absolutely terrifying," he said.
"I'm having nightmares about being evicted, I'm having nightmares about flats.
"I didn't sleep a wink last night with the RTB hearing going on.
"The same thing is true of all the tenants, the 13 remaining households in Tathony House.
"Everybody is telling me that they're constantly under stress, they're really worried about what's going to happen, but they're going to stay because the only alternative is emergency accommodation."
Concerns have been raised since the eviction ban was lifted that tenants across Ireland could be forced to use emergency accommodation as new rent prices surge ahead compared to previous years' rates.
The government has said that small landlords exiting the market has led to a lack of supply in the market, and that a boost in supply is needed to address affordability.
People-Before-Profit TD Richard Boyd Barrett said the issue demonstrated the need for the government to give first refusal to purchase a rented property being put up for sale to an approved housing body or local authority.
"They [landlords in general] should be compelled to engage with the local authority and the approved housing bodies to prevent people being made homes," he said.
"And I think that that is an absolute matter of urgency, the government have been talking about it, but it needs to happen."
He also said that Housing Assistance Payments (HAP) were too low in comparison to average rent prices, and called on either HAP thresholds to be raised or rent controls to be introduced.
"If you are in a situation where you're facing eviction, as thousands of people are now, one of the things you do is look for alternatives of accommodation.
"But it is an absolute exercise in despair and futility in the vast majority of cases because the HAP thresholds are so far below what the market prices are that it is just literally impossible to find anything.
"It's like trying to find a needle in a haystack."
He added: "This case does, once again, highlight the need also to reinstate the no-fault eviction ban, at least while the housing emergency continues."