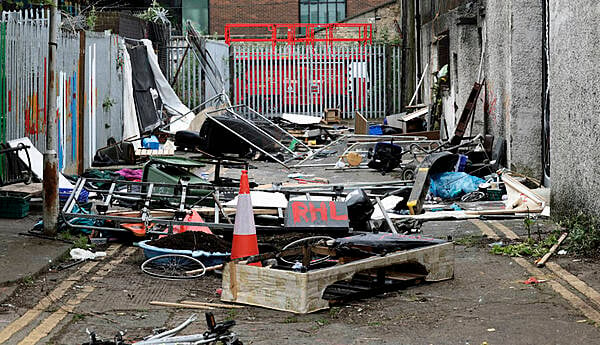 Vivienne Clarke
The Government has said emergency accommodation for most of the 500 asylum seekers who are currently without a place to live – some of whom are living in tents in Dublin city centre – will be provided in the coming days.
Minister for Integration Roderic O'Gorman said on Monday that a "significant offer" of accommodation will be made to 480 international asylum applicants who at present have no housing.
The move comes after a small group of homeless foreign nationals were forced to leave a makeshift camp of tents in Dublin 2. On Friday night, a line of gardaí stood between anti immigration protesters and an opposing group who had gathered in support of the refugees. Some time after the two-hour stand-off had ended, emergency services were alerted to a fire at the site.
The Government has been under major pressure to accommodate more than 60,000 Ukrainian refugees who fled to the Republic since the Russian invasion of Ukraine last February, as well as 20,000 asylum seekers from other countries.
The surge in the numbers of refugees and asylum seekers have put huge strain on the State's ability to accommodate those seeking shelter, with hotels and tourist accommodation heavily relied upon to meet the demand.
Speaking on RTÉ's Morning Ireland, Mr O'Gorman said that "a couple of hundred" beds "came online" last Friday and that in the next few weeks more offers will be made.
The Minister said that no matter how robust the system was, the pressures of the past year had put a strain on the system, which he acknowledged was not working as it should. At the beginning of 2022 there were 8,500 people requiring assistance, there were now 84,000, he said.
"We are looking at all the options," he added.
Mr O'Gorman said 5,000 additional beds had been provided within the system in the past year, 2,500 of which were for people who had already been in the system in hotel rooms where the contracts had ended.
"It is a difficult situation, we are bringing more accommodation online".
Mr O'Gorman and the Minister for Justice, Simon Harris, will be meeting with An Garda Síochána this week to discuss a response to escalating protests by the far right. While there was a right to protest there was no right to intimidate, he said.
When asked when and if he would direct the Dublin Regional Housing Executive to provide services to international asylum applicants, Mr O'Gorman said he and his department would "continue to engage" with the Executive about providing night services.
Modular homes for displaced Ukrainian people would begin to come on stream in June, with 300 of the planned 700 completed by the end of the summer, he said. Work on the remaining 400 was continuing with the OPW. There were seven sites where work was under way and a further 11 sites had been identified by local authorities, working with the Department of Housing with the OPW to undertake the construction.
Responding to a question about the establishment of a specific agency to coordinate accommodation for displaced persons, Mr O'Gorman said he agreed there should be such an agency and the Cabinet was looking at how such an agency would operate and under which Government department's remit.
This was a "medium to long term project," he said.
There were increased migration trends across Europe and Ireland needed to put in place the infrastructure to deal with the issue, he said.