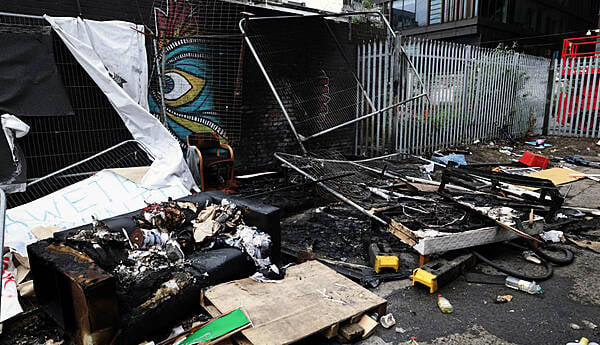 Vivienne Clarke
A lack of resources and training means gardaí are not equipped to deal with situations like the attacks on asylum seekers in Dublin at the weekend, the president of the Garda Representative Association has warned.
On Saturday public order gardaí responded to an anti-migrant protest outside the International Protection Office in Dublin – a day after a migrant camp was dismantled and set alight.
Brendan O'Connor told RTÉ's Today with Claire Byrne that the level of preparedness and resources available when there is a problem is putting additional stress on the force.
He said better plans and better resources should be developed because the current "lack of preparedness" was due to underinvestment and under training.
An Garda Síochána has a fundamental obligation to protect life and property, he said. Every person was equal in the eyes of the law, and officers had a duty to protect and investigate any incidents regardless of the circumstances.
However, Mr O'Connor said the public order unit, which should be called to police events like the protest at the weekend, was under-resourced and needs time to "scramble" to respond. There was also the issue of the lack of training. He said policing was all about being prepared for the unexpected, but the force at present did not have the capacity to do that.
Mr O'Connor said every garda should be aware of changes to the situation with immigrants, that they should be better informed on what to expect.
"We're being told 'here's a new situation, go out and do your best', that's not good enough. We need better resources and training."
When asked about the possibility of 'copy cat' attacks, Mr O'Connor said there was always the danger of repeat incidents. An Garda Síochána needed to have a level of preparedness should such an incident occur, he said.