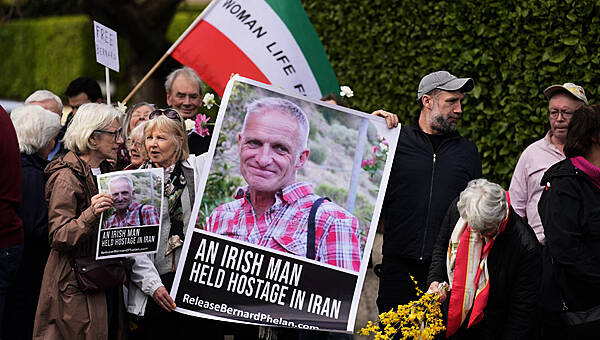 Vivienne Clarke
The sister of Bernard Phelan, the Irishman released from a Tehran jail last week, has told of the family's delight and relief at his release.
"We're over the moon", Caroline Masse-Phelan told RTÉ's Morning Ireland.
Mr Phelan – who had been detained in Iran since last October – was released on humanitarian grounds on Friday.
The family had been alerted on Thursday that Mr Phelan might be released, but they knew from experience that while it was "a strong possibility", they had got up their hopes in the past only to be disappointed.
Tánaiste Micheál Martin spoke with the family on Thursday to say it was possible that Bernard would be released, but it was not until he was in the air en route to Paris that they knew for certain that he had been released, she said.
"It was touch and go for him whether he would be able to take off," Ms Masse Phelan said.
It had been "an unbelievable moment to see him coming off the plane in France", there had been "huge hugs" and they were joined by members of the Department of Foreign Affairs who flew to Paris to be with them. "The French team were there too, we had all bonded over the seven months".
Mr Phelan spoke to his 97-year-old father, Vincent, by telephone. Their father had feared he would never see Bernard again, said Ms Masse-Phelan.
While her brother looked weak, he was overjoyed to be home which was a boost to him, she said.
"He can't get over the peace and quiet" having spent months in a cell with 16 others. "He put his bare feet in the grass on Saturday afternoon".
Ms Masse-Phelan, when asked if she thought her brother had been well looked after as claimed by Iranian officials, responded: "We would not agree that he was well looked after. But he is home safe and that's what matters". She went on to thank all who lobbied for the release of her brother – the TDs, MEPs, officials in the Department of Foreign Affairs, the Tánaiste who phoned the family and the President who wrote to her father.
The first thing her brother was looking forward to having was "a fry and Barry's tea", she joked, but he was also very conscious of the other Europeans he left behind in the jail in Tehran.
"He's very thankful to be one of the first home".